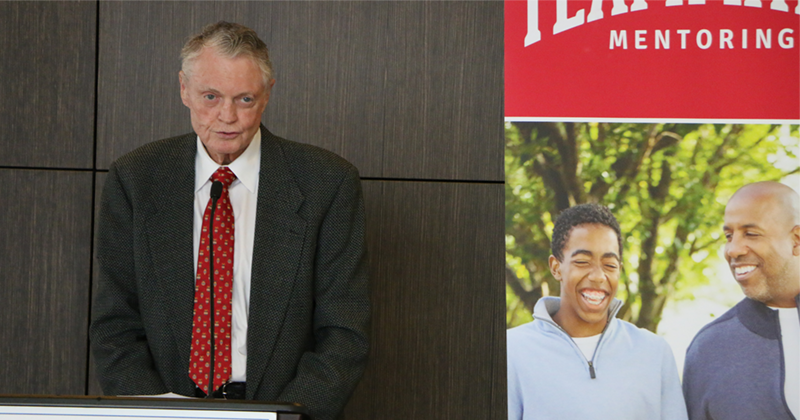 Omaha, Neb. –  TeamMates, the youth mentoring program founded by Tom and Nancy Osborne, has been selected as the charity partner for The Pinnacle Bank Championship golf tournament.
The organization, which encourages youth to graduate high school and pursue post-secondary education, will receive a check representing net proceeds from ticket sales and event sponsorships. An event to announce the partnership to the community took place December 1st at 10 am at the Pinnacle Bank offices at 180th and Dodge.
Support Nebraska, Inc., a 501(c)(3) foundation was developed exclusively to manage and operate the Pinnacle Bank Championship as the tournament host organization. A board of community volunteers chaired by Brad Strittmatter selected TeamMates as the foundation's charity partner for the tournament's inaugural year.
"There are so many organizations in Nebraska doing great work," Strittmatter said. "TeamMates works with youth statewide, encouraging excellence and getting them to dream big. That message fits really well with the goals we have for this first year of the tournament."
2017 marks the return of the Web.com Tour to Omaha after a three-year absence. Pinnacle Bank struck a five-year agreement with the PGA TOUR earlier this year to bring the Tour stop back to Nebraska.
"Our goal at Pinnacle Bank is to do great things in and for our community," said Marc Hock, Pinnacle Bank President. "We're happy to be able to help bring back a signature event for Nebraska and use it to help raise money that will benefit kids all across the state through TeamMates."
TeamMates currently provides school-based mentoring programs to close to 8,000 youth with a goal of serving more than 12,000 by the year 2020.
"Getting youth excited about academics and their own potential is an investment that pays off," said Suzanne Hince, Executive Director of TeamMates. "You not only help individual kids, but then they go on to become assets for the whole community. We're grateful to The Pinnacle Bank Championship for their support and look forward to putting their investment to work for the community."
The Web.com Tour's prior events in Omaha were contested from 1996 to 2013 and raised hundreds of thousands of dollars for community charities. The events also featured some of the Web.com Tour's best community support, from volunteer efforts to fan attendance.
The upcoming tournament will be held from July 17th – 23rd at the Club at Indian Creek and feature a purse of $600,000. The Web.com Tour's prior events in Omaha produced champions such as PGA TOUR winners Bo Van Pelt, Johnson Wagner, Heath Slocum and Jason Gore.
For more information about the Pinnacle Bank Championship, please visit thepinnaclebankchampionship.com.