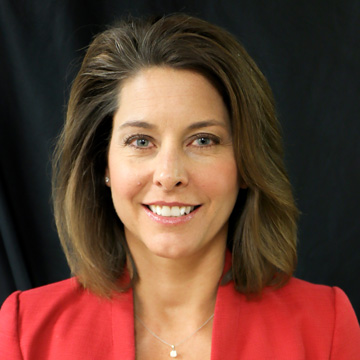 Meet the TeamMates Executive Director: Sarah Waldman
Sarah started her new role with TeamMates in July 2017. Please join us in welcoming her to our team! 
1.Tell us about yourself! Where are you from? Hobbies, interests?
I was born and raised in Council Bluffs, went to college and law school in Omaha and now live in Papillion.  So clearly, I enjoy living in the Omaha Metro!  I spend most of my free time with my family and friends.  On the weekends, you'll find me attending some form of youth sporting event or taking in one of the many family-friendly activities around town. My favorite way to relax is reading a book on my back deck, while enjoying the beautiful view of a nearby farm.  I travel as often as possible and love to try new restaurants. I'm always looking for recommendations for new places to visit and eat!
2. Who was your mentor?
I've had many mentors over the years.  Whenever I am starting something new, I always think of Fran, my first manager out of law school.  She encouraged me to learn as much as I could from business leaders and to never be afraid to ask questions.  She taught me to never compromise my values and to always be myself.  I learned so many valuable lessons from Fran and she pushed me way outside my comfort zone, for that I will always be grateful!
 3. Tell us about your professional experience. What did you do before TeamMates?
 Prior to joining TeamMates I was a consultant, working with leaders and boards of directors on strategy planning and implementation, as well as board development and governance matters.  I also have about 18 years of experience in the health insurance industry and have held a variety of leadership roles supervising staff in such areas as legal, human resources, compliance and customer service.  I have always had a passion for nonprofit work and have volunteered for many non-profits over the years, including TeamMates.
4. How long have you been a TeamMates mentor? Any fun anecdotes?
 I have been a TeamMates mentor for about 10 years and just started with my second mentee this year, after seeing my first through high school graduation.  I love every stage of the mentoring relationship and to start again with a new mentee has been very rewarding.  Thanks to my mentee, I found out I can still do a cartwheel and we are fierce competitors when it comes to the card game War.
5. What are you looking forward to most in your new position?
 I am looking forward to being part of an organization that makes a difference in the lives of young people.  I am passionate about TeamMates and believe strongly in the power of mentoring.  It is amazing to be part of the TeamMates network, which has such a positive impact in communities across the region.  I look forward to getting to know the local leadership within our chapters and seeing the incredible impact first hand.
6. What are your Gallup Strengths?
My top 5 strengths are strategic, maximizer, achiever, competition and individualization.  I love that TeamMates uses strengths in everything we do.  It's wonderful to work with a team of people who know their strengths and are provided an opportunity to do what they do best every day.  There is so much power in using a strengths approach to mentoring.  It provides mentees and mentors with a common language, valuable input for mentee goal planning and incredible resources for meeting activities and deep discussions.  I encourage all our chapters, mentors and mentees to take full advantage of these tremendous resources made available through the TeamMates partnership with Gallup.
7. Do you have any new or fun ideas for the organization?
One of the great things about TeamMates is that it is a very well-run organization, with a wonderful staff who maintain great relationships across our communities.  I look forward to continuing the high degree of support we provide to our chapters, mentors and mentees.  We will continue to look for opportunities to strengthen our mentor matches, as we strive to be the gold standard for school-based mentoring with 24+ visits per year and an average match length of 3 years.  To achieve this gold standard, we are developing creative and innovative match support tools, such as training, activities and meeting ideas, that are strengths-based, timely and age appropriate.  This is a very exciting time to be a part of TeamMates!