is to impact the world by inspiring youth to reach their full potential through mentoring.
TeamMates' Co-Founders: Tom and Nancy Osborne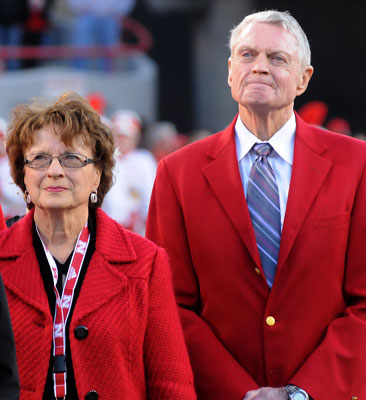 We are very pleased to report that TeamMates served over 9,000 young people this past year and it appears that we will have more than 10,000 matches in the 2018-2019 academic year in more than 170 school districts in Nebraska, Iowa, Kansas, Wyoming and South Dakota. Even though the vast majority of our chapters are in Nebraska, we are growing rapidly in Iowa and are expanding in Kansas, Wyoming and South Dakota.
We do not focus on numbers alone as we continue to enhance the quality of our matches through improved training, matching and match support. Safety of our mentees is a major emphasis and we have mentored more than 35,000 young people since the start of TeamMates without a single incident. Our average length of match far exceeds the national average. Because we are school-based, our cost per match is much lower, at about one-third the national average.
Our research continues to show that our mentees have improved attendance, academic performance and graduation rates as a result of being mentored. Additionally, we find that the behavior of mentees improves. National studies indicate there is less classroom disruption, substance abuse, teen pregnancy and criminal or gang involvement for those who have a mentor. Lastly we find that young people with a mentor are more hopeful and optimistic about the future. A mentor can show the young person the way to achieve an education, a better job and a fulfilling life. Hope is a very powerful asset.
We find that nearly all of our mentees look forward to seeing their mentors, feel safe when they are with their mentors and are happy when they are with their mentors. Thank you very much for your support of TeamMates.
TeamMates' Executive Director: Sarah Waldman
Our theme this year, Be There, is so much more than a catchy phrase. For our Be There For A Kid Like Me campaign, we featured young people of different ages, experiences and backgrounds because this represents who we serve. At TeamMates, one of our core values is Inclusion and we believe all young people deserve a mentor. The need for a caring adult relationship is universal and I am proud TeamMates is open to all students. We are seeing a trend of more self-nominations for TeamMates. When a student raises their hand and asks for a mentor it tells us they are invested. When they are then paired with a caring adult who shows up, listens and reminds them that they have unique strengths that give them great potential, the impact is truly phenomenal.
Be There also captures the essence of what it means to be a TeamMates mentor. I regularly meet mentors who have been matched with their mentees for 9 years, or even longer. In fact, our matches who have been paired for at least one year have an average match length of three school years. This tells us TeamMates mentors are invested in their mentees. We are there when our mentee changes friend groups, schools, living arrangements and so much more. Our mentees often say their TeamMates mentor is the one consistent positive force when other aspects of their lives are challenging. The great thing about being a mentor is we don't have to be perfect or know all the answers, we just need to show up, listen and remind them that they have something important to offer the world.
We are grateful for every TeamMates mentor who showed up for their mentee this past year. We appreciate the generous commitment of our donors and volunteers who help make TeamMates possible for so many deserving young people and their mentors.
Be There. It makes all the difference.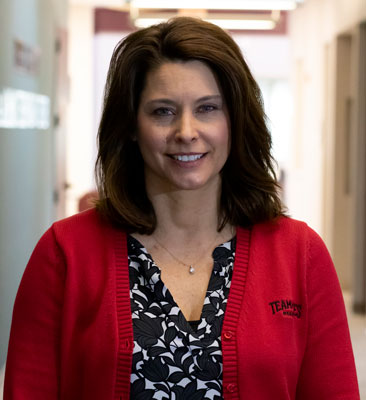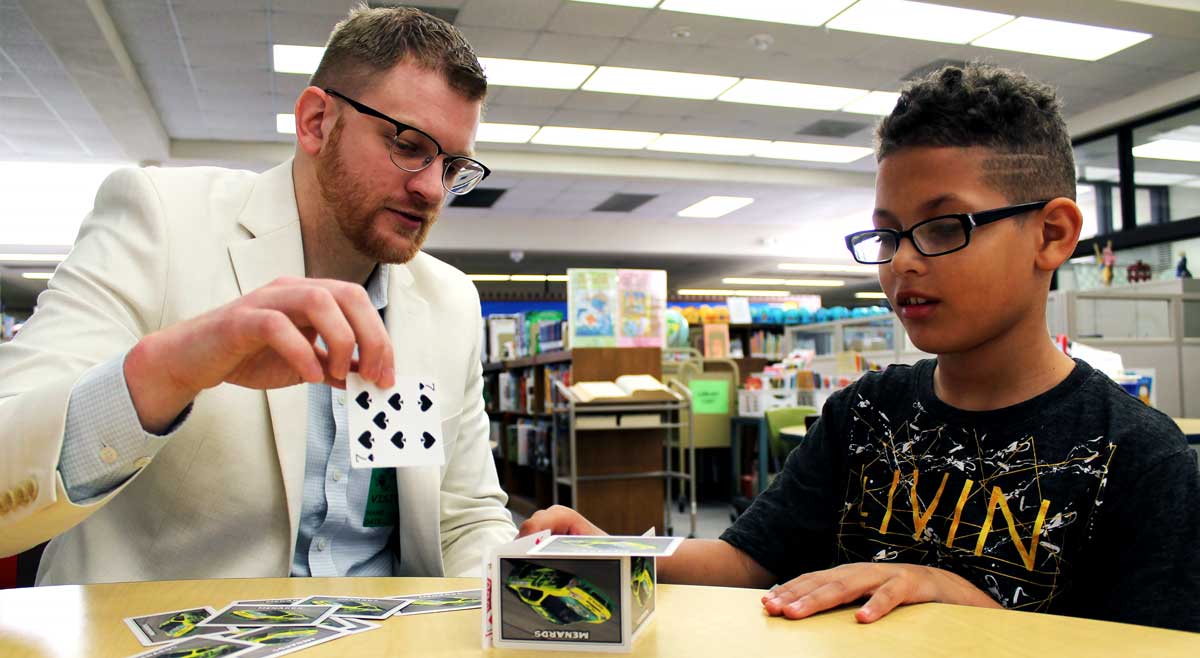 Mentor returns to Alma Mater
Becoming a mentor and deciding where to make an impact can be a big decision for a lot of volunteers. For Justin Miller, deciding which school he was going to mentor in was easy.
He chose his Northwest Omaha elementary school in the Omaha Public Schools chapter.
"It was really cool to walk in there after all these years!" Justin laughed.
Justin applied to become a mentor in the spring of 2016. At that time, his elementary school didn't have any TeamMates mentors.
"I always wanted to do some sort of mentoring program and give back to where I grew up," he explained.
During his training, Justin asked if his alma mater was even an option. With the help of Omaha Public Schools program coordinator, Dan Bartek, the school kicked off the Fall 2016 school year with Justin as their first TeamMates mentor.
"It has been a great experience," Justin explained. "The building coordinator has been a ton of help and made the initial meeting with Andre easy for both of us."
When their mentoring journey began, Andre was in third grade. Now, he's in his final year at the school. He said he really enjoys having Justin visit him once a week.
"I like that I have somebody to talk to," Andre said. "I get to tell my TeamMate something, and if I'm sad or mad, I get to talk it through with him."
Justin said he looks forward to catching up with Andre during their meetings.
"Every week he is always excited to tell me how his basketball game went the weekend before," Justin laughed. "He always has to tell me how many points he scored and how his team did."
They don't always just chat during their meetings. During the warm school months, Justin and Andre can usually be found playing one-on-one basketball at recess or playing paper football in the library during the winter months. Andre said that's his favorite part.
"He helps me a lot," Andre said. "When we play paper football, sometimes I'll mess up with counting or multiplication, and he helps me with it."
Since 2016, the TeamMates program at the school has grown with the help of other generous volunteers and companies, such as Quality Living Inc., who allow their employees to take an hour each week to mentor. Right now, the school's program has almost 10 matches.
"It's been really neat to see other mentors show up and be with their mentees," Justin said. "I've had multiple kids come up and ask me if I can get them a mentor too—I hope it keeps growing!"
Justin said he takes pride in visiting his alma mater each week and looks forward to seeing Andre, but it's Andre who said this experience means the world to him.
"Justin is one of the best friends I've ever had," he said. "He's the only mentor I've ever had."
Mentor returns to Alma Mater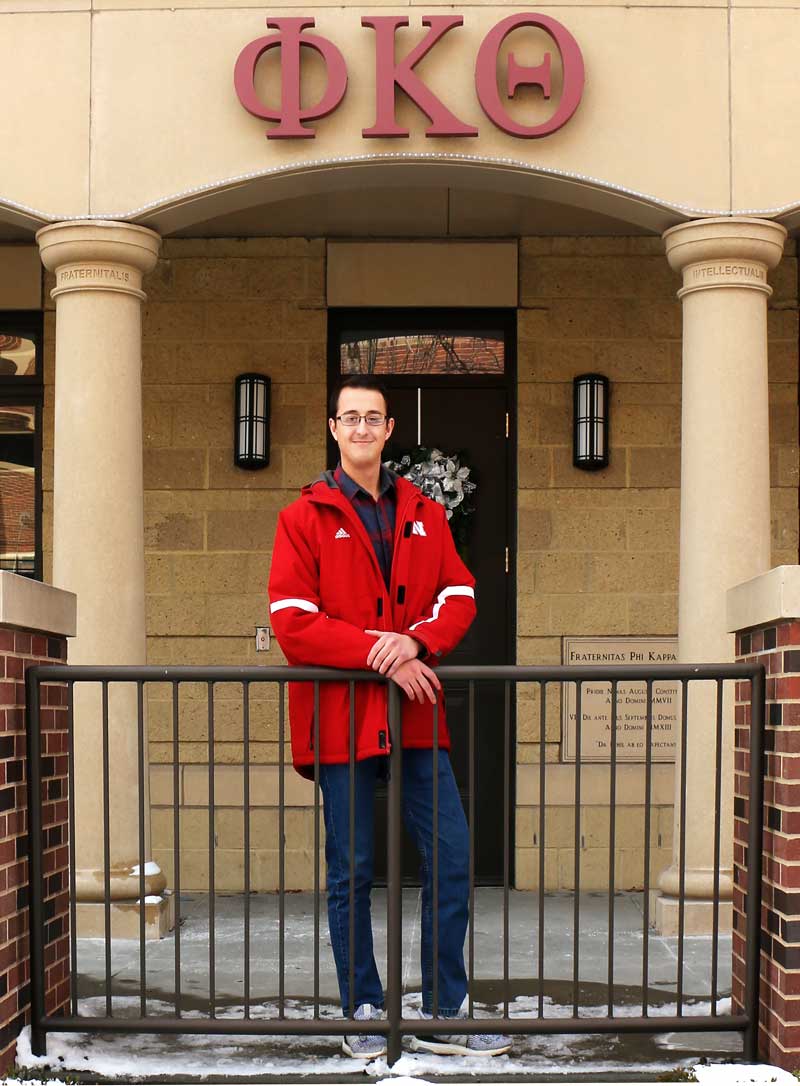 Through the halls of the Phi Kappa Theta house at the University of Nebraska-Lincoln, white boards with brothers' names are hanging on bedroom doors. One room holds a different name: "TeamMates Central Office". That room belongs to former Columbus mentee, mentor, TeamMates+ mentee and TeamMates+ board member, Mackenzie Mapes.
"It's nice people identify that with me," Mackenzie laughed. "I'd rather be known for TeamMates rather than some negative thing that I could've fallen into if I didn't have a support network set up for me."
Mackenzie's TeamMates journey started almost 10 years ago in Columbus, Nebraska. He and his mentor, Brad, met once a week from 7th grade through high school graduation.
"He was the father figure I needed in my life," Mackenzie explained. "My mom did the best she could to raise me and my brother, but it takes a village."
When Mackenzie graduated from high school, he kept in touch with Brad. With Brad's influence, he joined the Phi Kappa Theta fraternity.
"He pushed me to seek out a group of people to help me continually pursue excellence," Mackenzie said. "I think that outlines the positives TeamMates has to offer."
Along with his fraternity, Mackenzie's involvement in TeamMates+ has given him a strong support network. His TeamMates+ mentor and board president, Treve Florum, helped Mackenzie find a place on the TeamMates+ board. With his influence, the board is putting together a support group of TeamMates mentees to help with professional and emotional networking. Mackenzie said his mentors have influenced his philanthropic goals.
"Treve and Brad are the two people who pushed me to give back to TeamMates," he said.
Mackenzie is now a senior studying accounting. He's hoping to move on to get his masters, CPA, and eventually get into public accounting. His education path is not free however. When Mackenzie graduated from high school, he was awarded the Osborne Opportunity Scholarship, which covered $1,500 over the course of three semesters. The money was beneficial, but not enough to cover all of his bills, especially after his sophomore year.
"It was about that time that I realized the money was gone," he said. "I was thinking, there's a need for a [TeamMates] scholarship that a current college student can apply for."
Fired up with inspiration, Mackenize ran for the Phi Kappa Theta philanthropy chair. He didn't win the seat, but he won his brothers' hearts. The fraternity eventually adopted Mackenzie's cause. In working with the TeamMates Program Director DeMoine Adams, the TeamMates+ board, and TeamMates Foundation, the Phi Kappa Theta brothers created the "Leadership in Lincoln Scholarship".
"Everyone was a little hesitant at first because fraternities sometimes have a bad rep in some circles, but I showed them we're different," Mackenzie said proudly.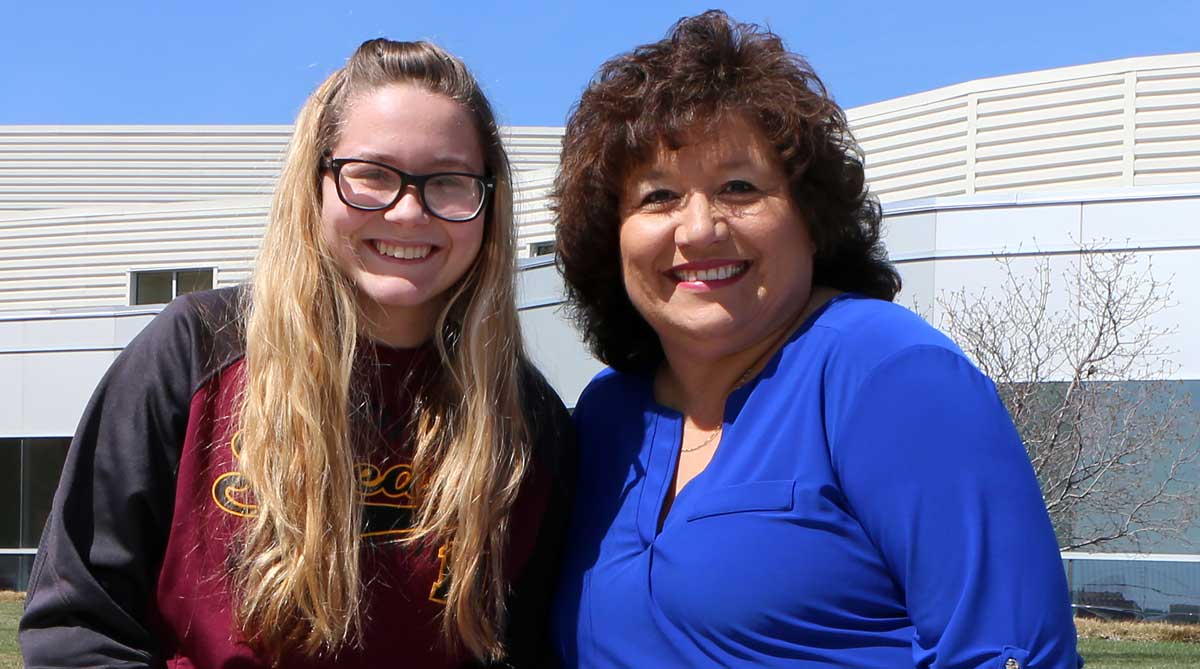 Mentor's friendship helps mentee thrive
For Danielle, the thought of going to college once seemed like a far off battle.
"I didn't know how I was going to pay for it," she thought back.
Danielle graduated from high school in 2018 and was a mentee in the Gothenburg TeamMates chapter. She met her mentor, Bertha, during her freshman year of high school.
"Danielle is focused, strong-willed and when she has her mind set on something, it gets done," Bertha said.
Danielle had her mind set on getting a post-secondary education and becoming a teacher. She applied to different programs across the state, but she had her eyes on Nebraska Wesleyan University in Lincoln.
She got in, but there was one problem— money.
Danielle started looking in to scholarships, and saw TeamMates offers two scholarships to mentees hoping to attend Nebraska Wesleyan University. One scholarship offers $2,000-$10,000 and another pays full-tuition.
"I figured there are probably lots of children who are deserving, so I applied, but I didn't get my hopes up," Danielle said.
A few months later, she received a call that changed her life forever.
"I almost dropped the phone!" Danielle laughed. "I was bawling my eyes out, calling all of my family members, I was in shock."
Danielle was awarded full-tuition with the Nebraska Wesleyan TeamMates Access Scholarship.
"I felt a big relief to know that most of college was going to be paid for," she said.
Bertha was one of the first people Danielle called with the good news.
"I bawled," Bertha said. "I was so happy for her— she has worked so hard."
One of the requirements for the scholarship is to answer one of four essay questions. One of the questions asked about her life goals. Danielle said this one was easy.
"I said it's my goal to become a mentor for a kid like me someday," she said.
As Bertha holds back tears, she thinks back to the positive experience she and Danielle have shared.
"I hope she can grab somebody's hand and walk them in the right direction," Bertha said. "If she needs me to be there for her, I'll be there."
Danielle and Bertha still plan to keep in touch and continue their mentoring relationship through the TeamMates+ program. They said this experience has been a good journey for them.
"Thank you for being there for me," Danielle said to Bertha. "You've always had my back."
According to the National Mentoring Partnership, 1 in 3 young people will grow up without a mentor. TeamMates staff, coordinators, board members, and mentors worked hard during the 2017-2018 school year to provide thousands of students an extra safe, adult friend to confide in
total number of mentor visits made to be there for their mentees
2018 graduates. 91% of TeamMates mentees graduate on time
%
of mentees say they trust their mentor.
%
of mentors report they leave their mentoring time feeling more hopeful
$
in scholarships awarded
is to become the gold standard of school-based mentoring programs and serve 12,000 youth by 2020.
Help us achieve our vision and Be there for a young person in your community.
Hannah Miller
Jay Wright
Allyson Horne
Tess Starman
Stephanie Horner
Tricia Dix
Vicky Howick
Kelly Koehler
Steph Pravecek
Emily Thomas
Jaci McKeever
Gayle Norris
Annette Woodhead
Taylor Carlberg
Julie Wente
DeMoine Adams
Sarah Waldman
Jen Benson
Beth Roberts
Sue Kennedy