Is TeamMates Working?
Since 1991, TeamMates has served more than 43,000 youth across the Midwest. Each year, the TeamMates Mentoring Program researches how youth are impacted by their friendship with a safe, caring adult. Explore the two sections below to see how TeamMates students see improvements in their personal and school lives.
Improving Hope, Engagement, and Wellbeing in Students
TeamMates is dedicated to providing mentoring for students in order to improve their hope and engagement, thus positively impacting their overall wellbeing and academic success.
Hope: The ideas and energy students have for the future. Hopeful students are more likely to be energetic, have a positive mindset, and believe they have the power to make the future better than the present.
Engagement: The student's level of involvement in enthusiasm for school. Engaged students often feel their schoolwork is important and they have the opportunity to do their best every day.
Wellbeing: How students assess their current lives and how they feel their lives will be in the future. Students with a higher wellbeing tend to have positive thoughts of their present and future lives, good health, and strong social connections.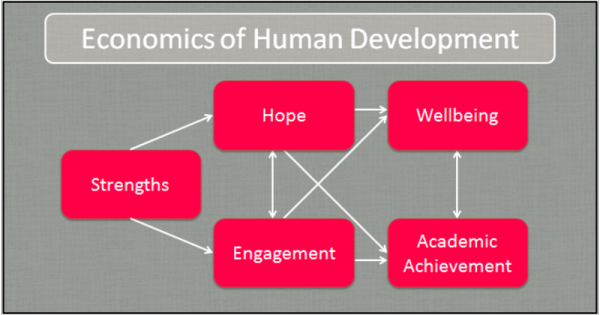 Data collected through the Gallup Strengths project has demonstrated the positive impact of TeamMates, a strengths-based mentoring program. Mentees who received strengths training as a part of their mentoring were more likely to look forward to spending time with their mentor than those who did not. Why does this matter?
TeamMates mentees who look forward to seeing his or her mentor have higher levels of hope, engagement in school, and overall well-being.
To learn more about the impact TeamMates mentors have on their mentees' levels of hope, engagement in school, and well-being, check out the Gallup Student Poll study.
Student ABC's: Attendance, Behavior, and Course Performance
The impact of a TeamMates mentor on the mentee is profound, with the majority seeing improvements in their academic performance and a reduction in the number of unexcused absences and disciplinary referrals.
National Research
The Business Case for Mentoring: Discusses private sector engagement in youth mentoring and the benefits from intersecting education, business, and community (MENTOR, 2015).
Don't Quit on Me:Examines, from the perspective of young people themselves, the roles that relationships with adults and peers play in decisions about staying in, leaving, and returning to high school (Center for Promise, 2015).
Don't Call them Dropouts:Research that provides reasons why many young people do not finish high school on the traditional four-year timeline (America's Promise Alliance, 2014).
Analyzing the Social Return on Investment in Youth Mentoring Programs: A quantification of the effect of youth mentoring programs on society in economic terms (Wilder Research, 2007).
Gallup Student Success Model:An analysis of how to use strengths development to lead to student success (Lopez, 2011).
Education Pays 2013: Outlines the ways both individuals and society benefit from increased levels of education (College Board, 2013).
TeamMates Research
TeamMates Gallup Student Poll Research: Studies the influence of strengths-based mentoring on student engagement (2011).
Impact of Strengths-Based Mentoring on Student Hope, Engagement, and Wellbeing: Addresses questions about the impact of strength-based mentoring on student hope, engagement, wellbeing, self-efficacy, and perceptions of their mentor (Calderon, 2011).
Mentoring A Parent-Community Partnership that Works: Explains how the TeamMates program has most directly benefited students and their families and explores additional work and family benefits for mentors (2011).
Developing a Student Mentoring Program Building Connections for Students: Describes the development and implementation of an adult-student mentoring program, identifies some cautions, and provides specific direction for program support (Dappen & Isernhagen, 2005).
For additional research on mentoring, please visit this list of sites and sources
or look at more resources directed towards mentors or schools.