By: Hannah Miller
Izzy Nichols' story begins at 7-years-old in Lincoln Public Schools. A sweet, young girl who deeply loved her family experienced adversity when her father passed away.
"My school counselor understood that I was going through some tough things and suggested to my mom that the TeamMates program was there for kids that just needed an extra person to spend time with them and just believe in them," Izzy explained.
Izzy's mother agreed to allow a mentor to visit Izzy while she was in school. That's when Izzy was matched with her mentor, TeamMates co-founder, Nancy Osborne.
Founded in 1991 by Nancy and Tom Osborne, TeamMates is a school-based program whose mission is to positively impact the world by inspiring youth to reach their full potential through mentoring. Mentees are in grades 3-12 and are in the program because they wish to have an additional safe, adult friend.
TeamMates serves about 10,000 students across 180+ school districts in Nebraska, Iowa, Kansas, Wyoming, and South Dakota. Mentees and mentors are matched based on hobbies and interests. They meet in school during the day, once a week, through the academic year. Many matches play board games, shoot hoops, work on a project or craft, or just talk.
"She always had a spark to her," Nancy said as she remembered Izzy as a third-grader. "She loved both of her parents, and I think it was really tough for her, so that's when I came into her life as an additional caring adult."
Izzy and Nancy continued to meet once a week through the Lincoln TeamMates program until Izzy graduated from high school. However, this is not where our story ends.
"The first day we met, Nancy told me, 'you're going to go to college, you're going to do this,' and I was like 'you're right! I'm going to go to college'," Izzy laughed. "I ran home and told my mom, and she was like 'of course you are'."
This form of future-casting impacted Izzy's life. She, like the other 72% of TeamMates mentees, felt a higher level of hope as a result of her mentor. This hope gave her the drive to work hard through school and look toward her future. Izzy went on to graduate from high school with a scholarship to the University of Nebraska-Lincoln.
"I'd be consistent and persistent, and try to make it a fun and happy time together," Nancy said. "It's important like it's important with your own child to be there when they need you."
Nancy and Izzy continued their friendship through the TeamMates+ program. 82% of TeamMates mentees who have a mentor move on to their second year of college. This beats the national persistence average of 68%. TeamMates+ mentees can choose to continue with their childhood mentor, or ask to be matched with someone closer to their school or in their line of work. They meet once a month on campus or through communication.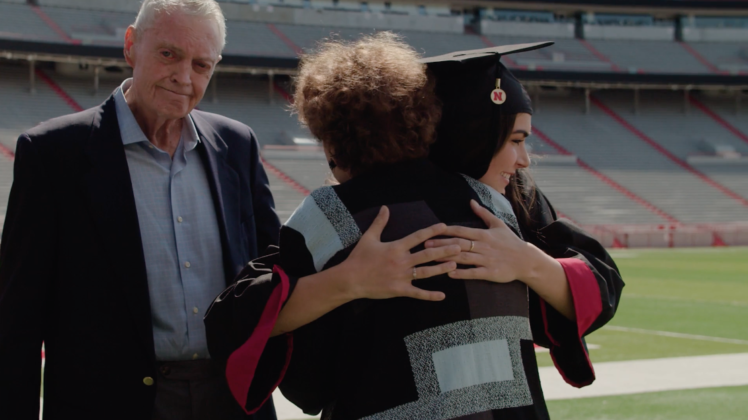 "She has just always been there, even to the last moment, like my graduation day, she was there," Izzy said.
"She has just always been there, even to the last moment, like my graduation day, she was there," Izzy said.
Izzy was able to graduate in four years with a degree in Marketing. She now is an account coordinator with Smith Kroeger in Omaha.
"Seeing Izzy as she is today, a grown woman, very capable, responsible, and very happy, it's like your own children, what more could you want for them?" Nancy said with a smile.
Though their 14-year journey through TeamMates has technically come to an end on paper, both Izzy and Nancy agree, their friendship is for life.
"I think that's one of the most significant parts about TeamMates is that you'll never lose that person, you always know that they'll be there. I am so thankful for everything." Izzy said.