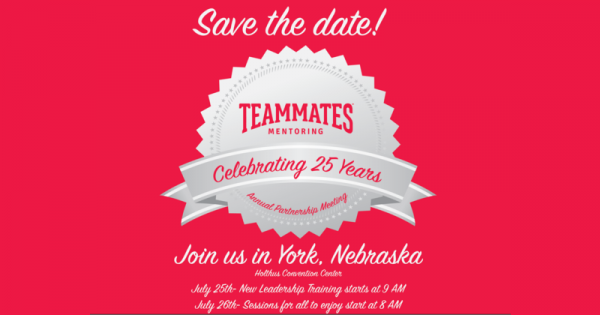 The Holthus Convention Center
3130 Holen Avenue, York, NE 68467
Monday, July 25th and Tuesday, July 26th in York, Nebraska
Day 1:  Monday, July 25
Day 1 includes New Leadership Training, and New Mentor Training Certification.  Whether you are brand new to TeamMates, looking for a refresher or a board member wanting to delve deeper, you are welcome to attend!
9:00 – 9:30      Registration & Breakfast
9:30 – 12:00    New Mentor Training (mandatory for new program leadership – open to all program coordinators, board members, and mentors)
12:00-12:30     New Leadership Lunch
12:30-4:00       New Leadership Training-Elements of Effective Practice
4:30-6:30         Evening Reception-Chances 'R'
Hotel Reservations @ Holiday Inn Express (room block, $99 per night)
Day 2:  Tuesday, July 26
Day 2 is a gathering of representatives from all chapters in TeamMates!  The day is a celebration of the past year, new learnings in the field of mentoring and inspiration for the upcoming school year.  All chapters are required to have representation – coordinators, board members and stakeholders are all welcome!  The schedule is below and individual breakout session options are at the bottom of the page.
8:00-8:30       Registration & Continental Breakfast
8:30-8:45       Entertainment:  York Mentor/Mentee
8:45-9:30       Opening Remarks, Updates
9:35-10:35     Breakout Session 1
10:40-11:40   Breakout Session 2
11:50-1:00     Lunch Served
12:00-1:00     Lunch & keynote, Awards, CHAMPIONS
1:05-2:35       Breakout Session 3
2:40-3:40       Breakout Session 4
3:45-4:00       Closing Session, Dr. T. Osborne, matches, 1-year, 10-year, 15-year awards, prizes
Breakout Session 1 Options
25 Years and Counting – What's New with TeamMates: Learn about what's new in the field of mentoring and how these changes impact your local chapter. As we enter our 25th year, this session will prepare you for the upcoming school year so you can provide high quality, long lasting matches.
Presenter: Suzanne Hince
The FUNdamentals of Data: Data doesn't only help chapters tell their stories, data is how chapters create their stories. Explore how your chapter is collecting, analyzing, and using data to further its missions.
Presenter: Paul Thelen, Iowa Nonprofit Resource Center
Send Your Mentees to College on a ScholarSHIP: This session will help chapters identify a plan for securing and awarding chapter-level scholarships to mentees in TeamMates, predicting chapter scholarship funding need, fundraising for scholarships and sustainability of chapter scholarship programs.
Presenters: DeMoine Adams and Jennifer Benson
School Board Engagement: Discover how to encourage school board members to mentor and how to align your chapter within the school district's strategic plan. Learn about the function of the school board and the best way to engage the board with your TeamMates Chapter.
Presenter: Marcia Herring, Nebraska Association of School Boards
Many Ways to Keep the Promise – Match Support: Experience growth mindset learning and navigate the online resources available on the Mentor Resource Library.
Presenter: Allyson Horne

Breakout Session 2 Options
25 Years and Counting – What's New with TeamMates: Learn about what's new in the field of mentoring and how these changes impact your local chapter. As we enter our 25th year, this session will prepare you for the upcoming school year so you can provide high quality, long lasting matches.
Presenter: Suzanne Hince
The Science Behind TeamMates: Discover the potential impact of data!  Learn how to maximize your dashboard further engage your school district, donors and mentors.
Presenter: Tess Starman
Celebrating the Silver Anniversary: TeamMates is 25 years old so let's celebrate with a bang! Discover ways your chapter can maximize this important milestone. Learn how to use the new 25th Anniversary Logo, recognize your mentors, mentees, school administrators, board, community partners and You!
Presenters: Kelly Sears and Hannah Paczkowski
Discussing Difficult Issues: Families are separated by a variety of circumstances and children experience loss in many ways. Help support your mentors and mentees by learning about coping strategies.
Presenters: Sara Torres and Julianne O'Keefe from Ted E. Bear Hollow
Good Governance!: What are the basic tenets of good governance? Learn how to develop a thriving TeamMates board with engaged board members who are mission driven. Discover how to maximize your boadrs impact in your community and the effectiveness for your chapter.
Presenter: Marcia Herring, Nebraska Association of School Boards
Breakout Session 3 Options
Become a Gold Standard Board – Board Training: Have you ever been trained as a board member? If not, this session is for you! Learn how to reach the gold standard as a board become a more effective member.
Presenters: Sue Kennedy, Brandon Leppke, and Nich Herrington
SAFE Training – Enhance Mentor Screening at the Local Level: Increasing your awareness of the prevalence of child sexual abusers and the tactics they employ in targeting victims in youth-serving organizations. Create a network of safety for youth in your community.
Presenter: Jaci McKeever and Tom Miller
The Magic Behind the Brand: Your program, your school and most of all your matches are the magic behind the TeamMates brand. You deserve a fresh new look, so check out the new logo, brand equity guide, and website. Roll out your plan for this year's Coaches Challenge.
Presenters: Hannah Paczkowski and Kelly Sears
Framework for Understanding Abuse: Learn about the different types of abuse and neglect, as well as signs and symptoms. Understand the reporting process and mandatory reporting.
Presenter: Tammi Winchester, Project Harmony
What Makes a Great Trainer?: Training for Trainers: Empower Yourself to Empower Others!
Presenter: Mary Sheka, Iowa Mentoring Partnership
Breakout Session 4 Options
25 Years and Counting – What's New with TeamMates: Learn about what's new in the field of mentoring and how these changes impact your local chapter.  As we enter our 25th year, this session will prepare you for the upcoming school year so you can provide high quality, long lasting matches.
Presenter: Suzanne Hince
ACES Understanding (Adverse Childhood Experiences): Equip your mentors by learning a new way of understanding lifelong health effects from childhood experiences both positive and negative.
Presenter: Tammi Winchester, Project Harmony
Discussing Difficult Issues: Families are separated by a variety of circumstances and children experience loss in many ways. Help support your mentors and mentees by learning about coping strategies.
Presenter:Sara Torres and Julianne O'Keefe from Ted E. Bear Hollow
Celebrating Connections: (Invitation Only) Linking Gold Standard Programs with New Leadership. This will be accomplished by the 3 C's: Raise Confidence, Make Connections, Encourage Communication. Contact your Regional Coordinator if you have questions.
Presenters: Sue Kennedy and Annette Woodhead
The Science Behind TeamMates: Discover the potential impact of data! Learn how to maximize your dashboard further engage your school district, donors and mentors.
Presenter: Tess Starman
Raising Chapter Funds – Make 25 the Best Year Yet!: Engage new donors and raise more funds to support your chapter's growth. This session will cover special fundraising opportunities include Chapter Walks and the 25th Anniversary Fundraising Campaign materials you can use to raise funds to help reach your chapter's goals.
Presenter: Jen Benson