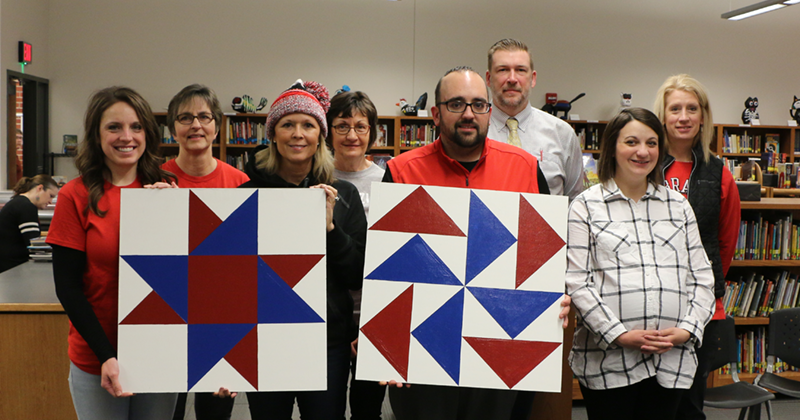 The TeamMates Mentoring Program is proud to announce the 2019-2020 TeamMates Community of the Year — Johnson-Brock!
Located in Southwest Nebraska, the Johnson-Brock TeamMates chapter serves 90 matches, which means about 180 people are involved in TeamMates. The town of Johnson only has less than 400 residents.
"I've learned that if I don't say anything about TeamMates, no one's going to to know," explained Johnson-Brock TeamMates coordinator Teresa Hahn.
The Johnson-Brock TeamMates chapter's recruitment model is "Recruit Every Day". Teresa said her goal is to recruit one new mentor a month. One thing that helps with this is the participation of school staff.
"Kids go up to teachers and ask them to be their mentor," she said. "They see community people all the time."
The Johnson-Brock Public Schools Superintendent, Jeffrey Koehler, is a mentor and member of the local TeamMates board. Teresa said Koehler allows her to train all Johnson-Brock Public Schools staff on TeamMates at the beginning of the year. Currently, 17 out of the 34 staff and paraprofessionals are TeamMates mentors. The district also paid for every teacher to be strength-trained.
"Mentors are so important," Teresa said. "half of our staff are mentors and it helps a lot."
This is the first year Johnson-Brock TeamMates will celebrate senior graduation. Seven mentees will graduate from high school, and a few have applied for scholarships. Teresa said she plans to find some way to honor those seven matches at graduation.
"Those kids will see another reason they were in TeamMates," she explained. "It's to say 'hey I have a future and I can go to college, and TeamMates is helping me to do that.'"
The Johnson-Brock TeamMates chapter also helps build a future beyond the school's walls. Teresa and the board find fun community service opportunities for matches to get involved with. Their most recent project was creating Barn Quilts.
Each Barn Quilt was primed and taped for the matches, all they had to do was paint during their match meetings. The quilts were put up for auction to help raise money for the chapter to recruit and support matches. Their goal is to raise $800 by the end of the school year.
"During our first auction, the mentee's mother and the mentor were both bidding for the Barn Quilt," Teresa said. "The mentor won, but turned around and gave the quilt to the mentee's family. He made an impression for life on that child."
Teresa said this fundraiser has brought a lot of meaning to the match relationship because the kids get to work on a project that's bigger than themselves.
"Once we pull the tape off and they see the finished product, the kids love it," she said.
Matches also created smaller Barn Quilts that will be hung in an upcoming Historical Walking Trail to celebrate Johnson's 150th Anniversary. Each quilt will be placed at a historical site or building. This will help build awareness of the program in the community, which is something Teresa is thankful for.
"Educating people about what TeamMates is, is so important," she said.
To become a mentor in Johnson-Brock, click here.