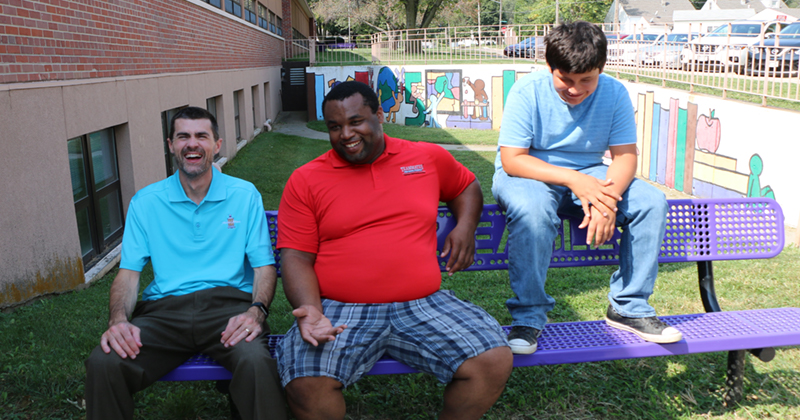 Aaron Butler's TeamMates journey started when he was 13-years-old in the Papillion La Vista school district. He said he was a shy 7th grader coming close to truancy status in the classroom.
"The school suggested I have a mentor," Aaron said. "I was always willing to give something a try."
In walked Travis French, Aaron's mentor. They met at school once a week until Aaron's graduation in 2008.
"Aaron was quiet, laid-back, and reserved," Travis remembered. "He was definitely a kid that you could tell was a good kid."
TeamMates matches last an average of 27.6 months, which comes close to 3 school years. The national average of mentoring programs is about 16 months. Aaron and Travis' relationship was similar to others in the TeamMates Mentoring Program by the way they spent their time. They both recall playing board games and talking about what's going on in each other's lives. Travis was never seen as Aaron's tutor or counselor— he was a safe, adult friend.
"My favorite times that I spent with Aaron would be when we would sit there and visit about was going on in his life, things he was involved in, and things he enjoyed," Travis said.
Started by Tom and Nancy Osborne in 1991, the TeamMates Mentoring Program is a school-based organization hoping to impact the world by inspiring youth to reach their full potential. Mentees can be nominated through a parent, school-staff person, or through self-nomination. The program serves more than 8,200 students in about 160 communities across Nebraska, Iowa, Kansas and Wyoming.
The demand for TeamMates mentors continues to rise as the program's impact reaches more students across the Midwest. Thousands of young people ask their local coordinators for a mentor each year. For Aaron, he remembers wanting an extra adult to look up to.
"I grew up without a father, so it really helped to have that male role model," Aaron said. "Travis was always timely and professional."
Now, Aaron is channeling his relationship with Travis in his new role as a mentor in Bellevue Public Schools. He started meeting with his mentee three years ago. Now, as a 6th grader, his mentee is in his final year of elementary school and is preparing to enter middle school.
"Our meetings make me feel old," Aaron laughed. "They give me flashbacks of snacks and recess."
Now, Aaron works as an automotive lab tech at Metro Community College. He takes about an hour out of his week to visit his mentee at school. He said now that he's serving as a mentor, he understands the commitment Travis made to him almost 15 years ago.
"I appreciate him balancing his lunch schedule and everything he had to do on his side to make sure I got to see him," he said.
As Aaron and his mentee chit chat about movies, traveling, basketball, and WWE, laughter can be heard from both ends of the table. TeamMates coordinators try to match mentors and mentees through hobbies and interests. Aaron and his mentee said they both enjoy sports, and can be a little competitive while playing a board game. Aaron said it's fun to see the world through his mentee's eyes.
"Getting to watch him grow up is the best part," Aaron said.
According to a recent study, 96% of TeamMates mentors rate the quality of their mentoring relationship as good or excellent. 98% of mentees feel they can trust their mentor, and 99% of mentees say their mentor cares about them. Academically, schools who partner with TeamMates say they see mentee's grades improve by 55%, fewer unexcused absences by 72%, and fewer disciplinary referrals by 85%. Also, 91% of mentees graduate from high school on time.
As mentees prepare for life after high school, TeamMates steps in to help. During the 2016-2017 school year, TeamMates and its partners awarded close to $3 million in scholarships to mentees. The scholarships range from two to four-year institutions.
The real impact TeamMates measures, happens years later when mentees pay their experience forward and become mentors. In February 2018, 77 former mentees were known to be volunteering through the TeamMates Mentoring Program. Travis said Aaron's participation in the program as a mentor, demonstrates the TeamMates mission of impacting the world by inspiring youth to reach their full potential.
"I couldn't be prouder to see Aaron come full circle," Travis explained. "To see him give back and be a part of the program as a mentor makes me feel all of the experiences and times we had together really meant something to him."