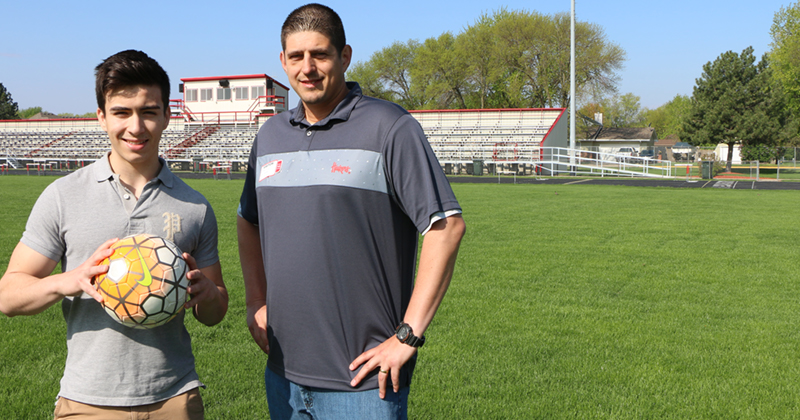 There's an area of South Sioux City, Nebraska that holds a lot of memories for one high school graduate— the soccer field. Not only is it home to hours of blood, sweat, and tears from his years playing on the high school team, but it's also where he connected with his TeamMates mentor each week for 10 years.
Mark Durant and Giovanni started meeting through the TeamMates Mentoring Program when Giovanni was a shy third grader.
"I was just weird," laughed Giovanni. "I was the kid who would hide behind my mom when I would see someone from school."
Mark said he remembers Giovanni being shy, but not for too long.
"The first time I went to see him, he had his head down, was tucked against the wall," he explained. "You can tell now, he's really started to open up and is more open about things."
Now, as a recent high school graduate, Giovanni is confident. A picture of him and his soccer team holding gold medals from the 2018 State Championship is hanging in the school gym. He's beaming with pride as he points it out. Soccer is something he and Mark bonded over from the beginning. They would play on the field during their meetings.
"I always loved playing soccer, and this just made it better," Giovanni said.
Over the years, their relationship grew from just kicking around the soccer ball or watching movies on the computers, to connecting through conversation. Their friendship grew stronger even after Mark moved about 90 minutes away to Elkhorn, Nebraska.
"When I moved, I talked to my wife and said 'I still have to make it back there'," he explained. "I'm a man of my word, and I made this commitment. The goal is to be paired up and stay with them until they graduate from high school."
Mark's career in the Nebraska National Guard in Lincoln helps give him some flexibility in setting aside a Monday to drive to South Sioux City to see Giovanni.
"It's amazing," South Sioux City Program Coordinator Lorrie Akins said. "They've been through deployments, military trainings, and it's always the minute Mark's back in town, he wants to see Giovanni."
Both Giovanni and Mark agree, graduation is just the beginning of their friendship. Giovanni plans to attend Northeast Community College to study construction management and potentially minor in drafting. He also earned a TeamMates scholarship to help with some of the cost.
"The scholarship is motivation to pursue my dreams and get that degree," Giovanni said.
With the scholarship, Giovanni and Mark will continue meeting through the TeamMates+ program, and plan to remain lifelong friends on and off the soccer field.
"Mark has taught me a lot of good morals and lessons," Giovanni said. "He has made me a better person in general."
This year, more than 700 TeamMates mentees are graduating from high school. Almost 100 of those mentees are receiving a scholarship to pursue a post-secondary degree, and will become a part of the TeamMates+ program either with their current mentor or with one close by their chosen college or university.
TeamMates is a school-based mentoring program focused on creating friendships between a student and an adult once a week at school during the academic year. Matches play board games, kick around the soccer ball, or just talk. Mentors are not expected to be experts, they just have to be there for their mentees. Learn more on how you can do good by being you.