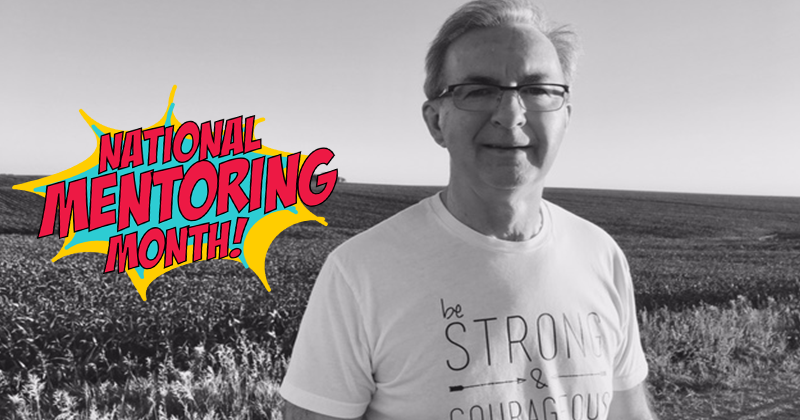 8 years in TeamMates has brought a lot of memories back for Steve Hoden. He met his mentee when the Oakland-Craig chapter began— back when his mentee was in fifth grade.
"At that time I was a pastor," Steve thought back. "I came up every Monday at lunch time and I gave him the option every year to meet with me."
Now, Steve's mentee is a senior in high school. They're working together to come up with a plan for graduation, and hopefully get his mentee entered in a welding program.
"I always gave myself two requirements," Steve explained. "I would never preach to him or bug him with school".
Over the years, Steve served as a constant in his mentee's life. He said one of his favorite memories was visiting his mentee on his 60th birthday.
"He told his mom 'We gotta bake a cake'," Steve laughed. "I decided I was going to bring cupcakes for all of the students in his grade, and it turned out he thought enough of me to bake a cake and bring it to school on my 60th birthday. It was a lot of fun."
Through growing pains, Steve expected his mentee to want out of the program, or to want to hang out with his friends. He found he never had to face that fear, he's gotten to see his mentee grow up.
"He's been so kind to me," Steve said. "He knows that the choices he makes in the next 12 months are really going to direct a long-term path of his life, and I'm going to support him."
After his mentee graduates, Steve plans to continue supporting TeamMates from the sidelines. He was diagnosed with Parkinson's Disease, but he doesn't plan to let that stop him from recruiting new mentors to the team.
"I tell people you've got something to give, if you give an hour a week, stop what you're doing and become a friend," he said.
With the rise of social media, and the decline of face-to-face communication, Steve said he is so thankful he joined the Oakland-Craig TeamMates team.
"I feel like I've gotten as much or more out of this experience than maybe my mentee had," he laughed.