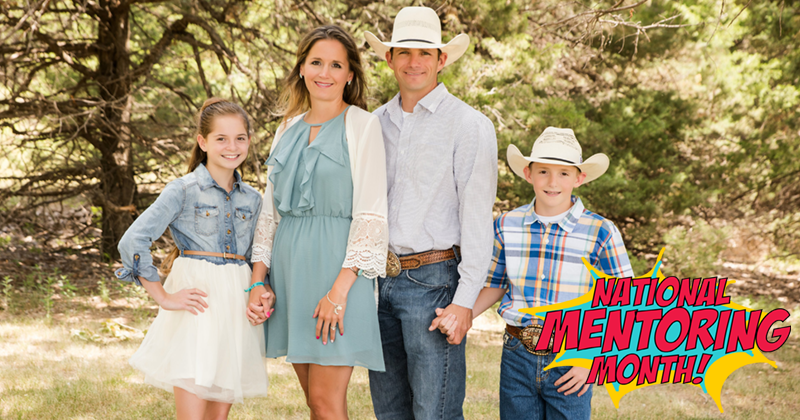 For Dustin and Cynthia Elliott, mentoring isn't just a hobby or a way to give back to the community— it's a part of their family.
More than 100 TeamMates matches are in Hershey, Nebraska, a town of less than 700 people. Dustin and Cynthia each have a mentee, and their children— a pair of 10-year-old twins, have mentors as well.
"It gives us the opportunity for our kids to see mom and dad working and interacting with other kids," Cynthia said. "By being a role model, I'm showing my own kids that it is important to care about others beside yourself."
Cynthia is a teacher in the Hershey school system. She joined TeamMates during the 2015-2016 school year. She and her mentee meet each week for lunch to chat about what's going on in each other's lives. It's very laid back and she said they both seem to enjoy it.
"I understand the need for mentoring," she said. "To have another adult guiding tomorrow's youth is vital."
Not only has the experience with her mentee been a positive one, but she's seeing a positive impact in her kids as well. The Elliott's son and daughter are matched with another husband and wife.
"It is something they truly look forward to," Cynthia said.
Dustin, a former professional bull rider, first started his TeamMates journey in North Platte four years ago. He switched over to the Hershey chapter about a year ago.
"I enjoy youth and want to do my part to help people, no matter the age or the situation," he explained. "TeamMates is a well-known mentoring program that I feel truly has the mentorship in mind as a school-based organization."
Dustin said he sees the impact TeamMates has had on his son and daughter by the way they interact with others.
"They are starting to understand relationships and positive relationships a lot better," he said. "Today's day and age with society the way it is, those are very important."
Many mentors say they get just as much out of the mentoring relationship as the mentees do. Dustin said his experience has been eye-opening.
"I've seen a tough kid open up and show me that he cares because I care," he explained. "He has a rock he can lean on."
Cynthia said the impact on their family is huge. They've taken the Gallup Strengthsfinder as a family through TeamMates and have learned about the program on a new level— an opportunity many families don't get to experience.
"After we all attended the Strengths seminar held at Hershey for TeamMates, my children asked why they are paired with mentors," she explained. "They didn't understand that just because they already have a positive home life, having an extra adult in their lives is very beneficial. The seminar opened the door to have the conversation on mentoring."
That conversation on mentoring also rang clear with Dustin's childhood. He said his dad influenced his decision to mentor.
"My dad told me 'We are the past, kids are the future'," he said. "I try to do as much as I can when I can because I know if we leave behind a better place than we succeeded."