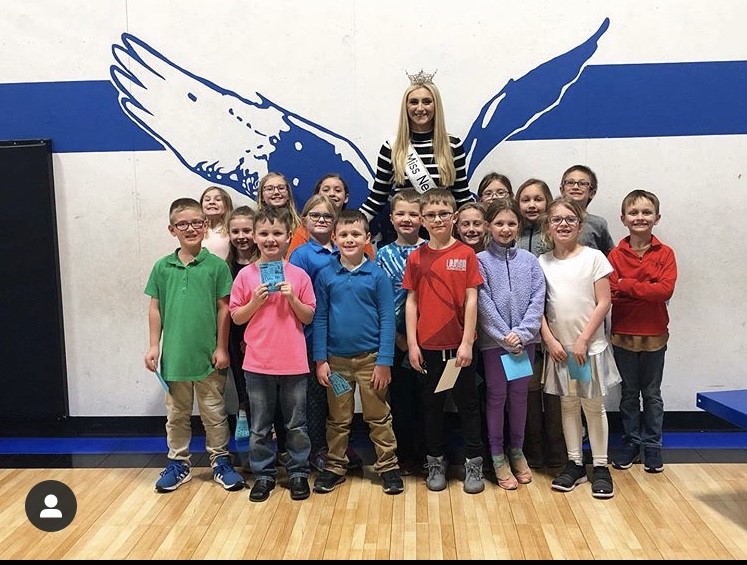 For several years the Miss Nebraska organization has shown its support for the TeamMates Mentoring Program in a big way. Each year, the reigning Miss Nebraska has traveled across the state to supporting TeamMates schools to express the importance of mentoring and leadership. This is all done through the kindness of their hearts as they also continue to do work with their existing platforms.
In 2019, TeamMates had the honor of having Allie Swanson visit TeamMates chapters to help recruit and spread the message of leadership and mentoring. Here's what she had to say about her experience:
"TeamMates Mentoring Program is having a tremendous impact on our students, our schools, our families, and our culture. Their message is relevant and heavily needed in this day and age. I have collaborated with many organizations as Miss Nebraska, but TeamMates takes the cake for my personal favorite! Mentorship is vitally important in this day and age because it gives mentees the best gift- a trusted adult's undivided time and attention. As a digital media safety expert, I have seen that there is a strong need in our society to disconnect digitally to connect personally. I am happy to support and promote any organization that pursues leadership and interpersonal communications skills outside of a screen. The ability for a student to have a role model, a positive authoritative voice, or simply someone to look up to or do life with is imperative in the transition from student to successful adult. By providing resources and sharing experiences, a mentor encourages the mentee in school, relationships, soft skill development, time management, and career readiness. Overall, it's about YOUR PRESENCE. A lot of technology and social media isolates young students. TeamMates provides power in presence, which is one of the best gifts you can give."
Thank you to Allie Swanson and the Miss Nebraska organization for your continued support of TeamMates. Due to the COVID-19 pandemic, a new Miss Nebraska will not be crowned until 2021. We are excited to continue to work with Allie and look forward to the future of this outstanding partnership.