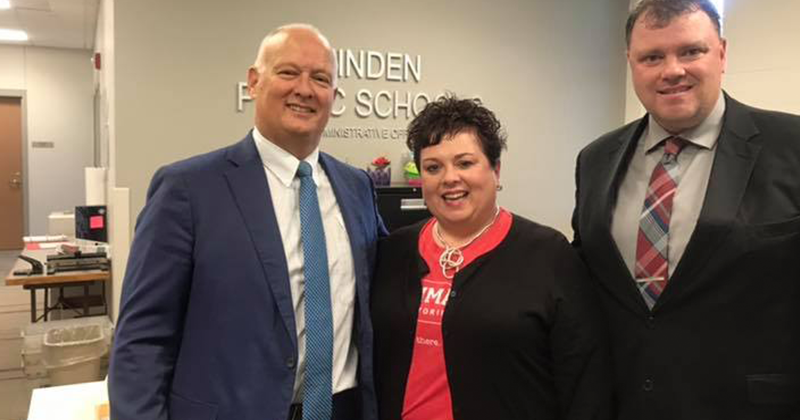 Nebraska's Attorney General, Doug Peterson, is spreading his message of support for mentoring while working with Nebraska communities.
"It's very encouraging to see so many communities get behind an organization like TeamMates," Peterson said.
Peterson drove several hours this Fall to visit communities with TeamMates chapters like Cozad, Aurora, and Minden. His visits involved Attorney General business, but he made sure to show his support for the organization by sitting down with the TeamMates coordinator in each community.
In October, he met with Minden coordinator, Darcie Reed, and Minden Superintendent, Jim Widdifield. Reed and Widdifield updated the Attorney General on the Minden chapter and what makes their community so special.
"Volunteerism is a big deal," Widdifield explained. "You can't drive a community in the right direction without doing something good."
TeamMates Mentoring of Minden has 33 matches. They have several supporters from the community, but one thing their Superintendent is proud of is the support of school teachers and staff members.
"If we don't do this together, we don't thrive as a community," Widdifield said. "We believe in being #OneMinden."
Reed said her dream goal is to provide a mentor for each student in Minden.
"One adult in a young person's life is life-changing," she said. "I always get emotional on match day."
To learn more about Nebraska's Attorney General and his commitment to organizations like TeamMates, click here.