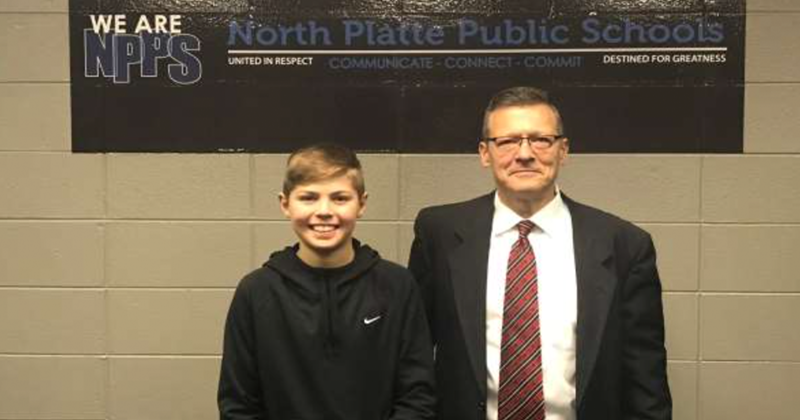 The North Platte, Nebraska TeamMates chapter featured a match during the month of January for National Mentoring Month. This year, they chose Dr. Ron Hanson and his mentee, Rylan. Here's what they had to say about their mentoring experience.
What do you remember about meeting you mentor/mentee for the first time?
Dr. Hanson: I was excited to meet my mentee and hoping he would like me. I really enjoy working with our youth. I was looking forward to the opportunity of meeting a new friend.
Rylan: I was nervous and did not know what to expect.
What is your favorite memory about being in TeamMates?
Dr. Hanson: Every meeting is special to me. Taking time out of my busy schedule to see my mentee is an opportunity for me to relax and visit things we like doing. Also, beating him in the games we play!
Rylan: I enjoy playing games and talking about hunting.
What special gifts/talents have you discovered about your mentor/mentee?
Dr. Hanson: Rylan is a genuine and respected individual who treats others with respect and dignity. He is a happy-go-lucky kid who really enjoys every aspect of life….just a great individual!
Rylan: We both like hunting and sports and do many of the same things.
What would you tell someone who is considering becoming a mentor or a mentee?
Dr. Hanson: Being a mentor provides me the opportunity to make a difference in another person's life. It is an opportunity to have a friend to share one's life experiences, play games, and just enjoy each others company.
Rylan: It is a good opportunity to meet another person and to get to know him.
How has TeamMates impacted your life?
Dr. Hanson: The TeamMates Mentoring Program has given me the opportunity to prioritize what is important. Making time to meet and visit with my mentee is relaxing, fun, and memorable. I enjoy the time to just talk and play games with him.
Rylan: It has made me get to know more people than just my peer group friends.