TeamMates is celebrating 25 years of providing youth in Nebraska and Iowa with the support and encouragement of a mentor. The program began in 1991 with 22 Nebraska football players and 22 boys in the Lincoln Public Schools. Of those 22 students, 21 graduated from high school, 18 went on to college, and the other pursued a successful Motocross career. 25 years later we've reached out to the original mentors and mentees. Here's what Richard Bollen had to say about his experience.
1. What was your first reaction to your TeamMates mentee?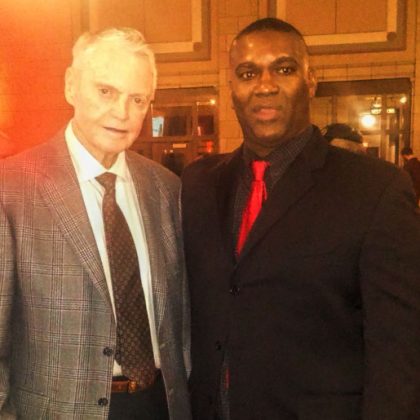 I had two mentees. The 1st and original mentee was Jamond. My first reaction was natural and I just wanted to know who he was and what his interests were. The next thing I wanted to know was how were his grades and behavior. I guess that's just the true coach and educator in me and that's what I remember about my first reaction. Then 5 or 6 years ago a good teacher and coach friend called me and asked me to be a TeamMate again and mentor a young man at a middle school who has the potential to be a good student and football player, and that he just needed to work on his behavior and making the right and appropriate choices in school. Kwame and I developed a TeamMates relationship when he was in 8th grade. That continued on for 4 more years while he attended high school until graduation. He attended college last year and has enlisted with the Armed Services.
2. What is your favorite memory of your experience together?
Actually my favorite memory for Jamond is that I could have spent more time with him. I was trying to finish college and football and was trying to take care of an older sibling at the same time, but the greatest memory now with Jamond is when I see him at a high school game when he is watching his niece or nephews, or when I see him at the bank, grocery store, or hardware store. This means he received his education, is taking care of his family, and is not in trouble. What a great memory. As for Kwame, I want him to continue to work hard in college and the Armed Services. I also want him to take good care of his family. That's a great memory for me.
3. Do you still keep in touch?
Yes. They both know that if they need me for a reference, advice, or just to talk they know where to find me.
4. How do you feel this mentoring relationship made an impact on your life?
I can always continue to give back and role model for them and others, and any other youth as an educator. This is a true example as Coach Osborne has always said that this program is a way to help our youth reach high achievements and become great citizens in their communities.
5. What would you say to someone who is considering becoming a mentor?
Like Coach Osborne said, just make sure that you can give an hour a week of your time and be dedicated to that mentee. They may have had some experiences in which no one has ever gave them quality time and experiences, and did not build a consistent positive relationship with them.
6. Why did you decide to become a mentor?
When Coach Osborne asked the team that day who wanted to help mentor some school-aged kids and have a friendly relationship with them, I just thought that I would be a great fit because it sounded like what my father, mother, brother, friends, church members, coaches, etc. would have done for my brother and I.
Thanks to Richard for letting us know how TeamMates has impacted his life and the lives of his mentees. Check back soon for another story on where our original TeamMates mentors and mentees are today!