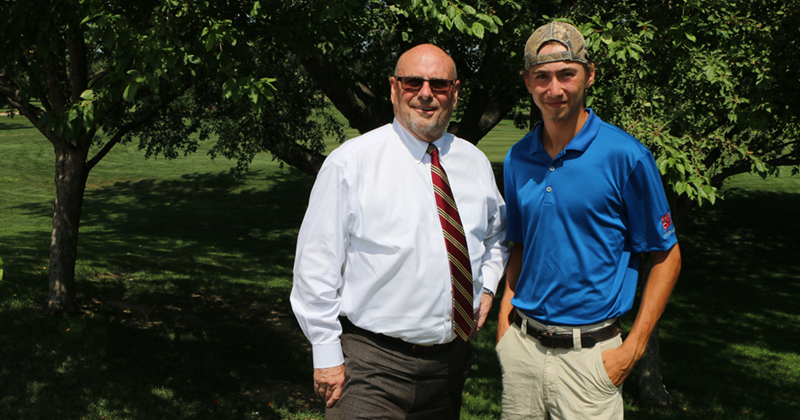 Mick McKinley and Seth are representing TeamMates at the Pinnacle Bank Championship as "Match Ambassadors". Click Here to learn more about the tournament.
For Seth and Mick, their time together has seemed to have flown by.
"It's gone way too fast," Mick said.
Seth and Mick were matched in Council Bluffs Public Schools three years ago. Now, Seth is getting ready to enter his senior year of high school. Seth said he remembers all of his meetings with Mick as positive ones.
"When we first met, he seemed like a cool dude," Seth thought back. "I knew we'd definitely get along together."
Mick said he knew right away Seth was a great mentee for him.
"I love Seth's demeanor," he said. "He's such a free-spirit, he likes to do all of the fun things in life like hunting and fishing."
Seth and Mick's mentoring relationship is mainly based on conversations. Seth said he enjoys talking about every day life with his mentor.
"I've learned how to connect with Mick and how his life ties into mine," he explained. "He's helped me make better life decisions by sharing what he's learned in life."
Mick said his relationship with Seth has given him a different outlook on life.
"I think talking and being with Seth kind of gives me renewed faith in young kids," Mick said. "He does the right things, and I'm real proud of him."
Mick's pride for Seth continues to beam as they prepare for Seth's graduation. Seth plans to graduate in May with the 2-Year Pottawattamie Promise Scholarship.
"I want to serve in the Air Force or National Guard and then continue on to be a DNR officer or conservation officer," Seth said.
Mick said he's confident his mentee is headed on the right path.
"He's in the right direction of what he wants to do with his love of hunting and fishing, all of those things fit right in with the career path he's talking about," Mick explained. "I think it's just wonderful."