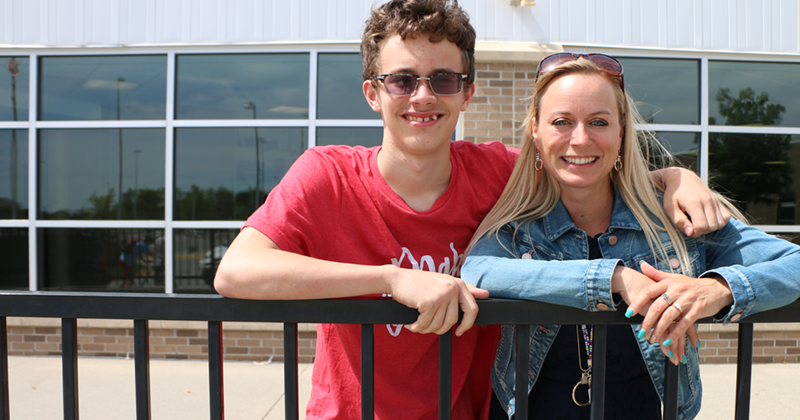 Shawna Mayer and Logan are representing TeamMates at the Pinnacle Bank Championship as "Match Ambassadors". Click Here to learn more about the tournament.
Shawna and Logan's TeamMates relationship dates far before they were matched in Ralston Public Schools. Logan fondly remembers Shawna as his elementary school principal.
"It was scary to be matched with my old principal, but also awesome," he laughed.
Shawna and Logan starting meeting as mentor and mentee in 2017 during his junior year of high school.
"It took him almost the whole year to call me Shawna instead of Mrs. Mayer," she joked.
Now, Logan is getting ready to enter his senior year of high school. He said he's very thankful to have Shawna as a mentor. Logan comes from a family with two sets of twins, but he's the only child without a twin.
"It can get very lonely," he explained. "I'm so glad I have Shawna."
Shawna is the program coordinator for TeamMates of Ralston Public Schools. She said visiting Logan is the highlight of her week.
"I never know what we're going to do because he's such a mover and a shaker," she said. "We have sat down and played some games, but a lot of the time, he's like 'oh let's walk and talk while I do this,' or he likes to show me what he's created."
With the help of Avenue Scholars, Logan's plans are already set for life after high school. He plans to attend Metro Community College to possibly become a computer technician. He said he's also looking at a career in education.
"Shawna has changed my life for the good, and I want to do the same for some kids," he said.
Shawna said she could see him in education or even becoming a TeamMates mentor for another kid in Ralston Public Schools.
"Then she definitely can't escape me!" Logan laughed.