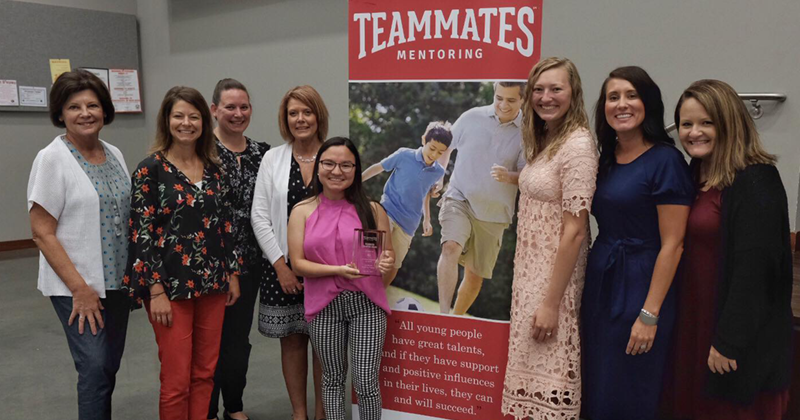 Photo provided by Quality Living Inc.
Members of the QLI team are all smiles after receiving a big honor from the TeamMates Mentoring Program.
The Omaha-based nonprofit company was awarded the TeamMates Champion Award at TeamMates' Annual Partnership Conference in York, Neb. July 24. Members of the QLI staff, Katie Hodges and Kiley Bierman, delivered a heartfelt speech about their experience as mentors in the program.
QLI is a private, nonprofit corporation that was founded in 1987. Their mission has been to deliver life-changing rehabilitation and care for individuals with brain injury, spinal cord injury, or other severe neurological disability. With this mission clearly in mind, QLI has grown to become the largest and most comprehensive center for post-hospital brain injury and spinal cord injury rehabilitation and care services in the entire United States.
TeamMates and QLI started their partnership in January 2017 after a visit with Tom Osborne. That single visit inspired more than 20 employees to apply to become mentors in the northwest Omaha area. They currently have 23 staff members matched with a young person, and are constantly recruiting new mentors within their company. Members of their team also volunteer in various ways within the TeamMates organization through fundraisers, events, and even competing on Dancing with the Omaha Stars to help raise funds and awareness for TeamMates.
After receiving the TeamMates Champion Award, QLI posted the following statement to Facebook:
"QLI is a proud partner of the Teammates Mentoring program and we are grateful for the support and recognition. This award is an honor and a reflection of our commitment to mentoring the youth of Omaha."