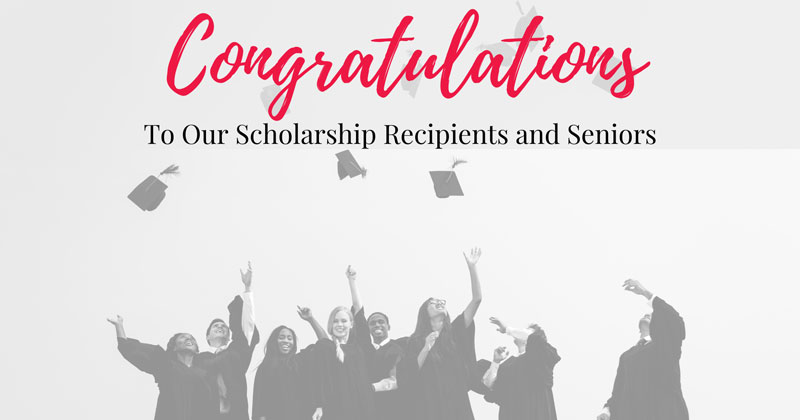 By: Anna Flores
Though graduation celebrations and traditions looked different this past May in the wake of COVID-19, the 752 TeamMates seniors who graduated still had the option to apply and be awarded one of the hundreds of TeamMates scholarships.
In total, TeamMates awarded 3.2 million dollars in scholarships to mentees through central office scholarships, donor scholarships and collegiate partnerships.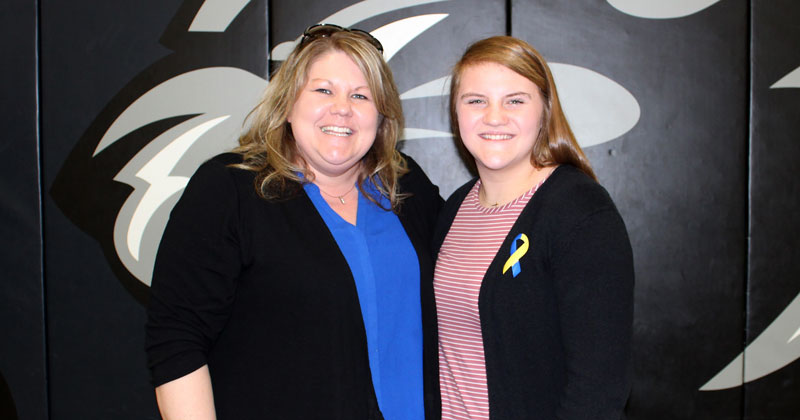 From the Hershey Chapter, Carlee, was awarded a scholarship to attend Chadron State College.
Carlee was matched with her mentor Becky Jones at the beginning of her freshman year of high school.
When Carlee was looking for a mentor, Becky's previous mentee had just graduated high school after being matched for five years and the timing seemed perfect, so they were matched.
Carlee comes from a long line of teachers and always thought she would follow in the footsteps of those before her and become a teacher. However, in December 2019, she applied for the Rural Health Opportunities Program (RHOP), participated in an interview in January, and was notified that she earned a spot. After earning a spot, she decided to go Pre-Med at Chadron instead, she said.
Additionally, she said the TeamMates scholarship and the RHOP opportunity provided her clarification that Chadron was the right path for her.
"I had been struggling on where to go or what to do with my life the majority of first semester (senior year), so it felt like a sign from God that Chadron was the best choice for me," Carlee said. "Not only had I gotten the scholarship, but I had gone on visits to Chadron and it felt like home."
Carlee hopes to be a Physician's Assistant one day.
Carlee will be continuing on with Becky in the TeamMates+ program and is very excited to do so, she said.
Thomas, a mentee from the Sidney, Neb. Chapter received a scholarship to attend the University of Northern Iowa (UNI).
Thomas was matched with his mentor, Mike, at the beginning of his freshman year of high school.
"I first learned about TeamMates when I was in Elementary, but I wasn't quick to join it and then I realized all my friends are in TeamMates, it looks like fun, maybe it will give me more opportunities," Thomas said.
Thomas and Mike grew close through their conversations about Mike's past service in the military and discussions about mechanical engineering. Thomas even plans to major in Mechanical Engineering and Technology at UNI.
When they were first matched Thomas described himself as shy and only having a few friends, because of Mike's example Thomas has become more outgoing, he said.
"I think TeamMates kind of helped me open myself up, because when I first met Mike I wasn't really out there, didn't talk to people, had a couple friends and was shy talking to people, but once I started talking to Mike he talks to everybody. He's one of those guys that can talk and will talk to everybody, it doesn't matter who it is," Thomas said. "He taught me that it doesn't matter who you are, people are going to like you, and you can talk to anybody. You just have to put yourself out there and talk to people to get new friends."
Thomas plans to take those life lessons with him as he embarks on his collegiate career. He also hopes to become a mentor through TeamMates and be a part of TeamMates+ in college.
Thomas said that the TeamMates scholarship will help him with his room and board at UNI. He also received a scholarship to play football at UNI and is excited to do so.
"It helps me with my room and board and I didn't get a full scholarship to play football, so it'll help me study what I want to and hopefully move back a little closer and still connect with Mike," he said.
A mentee from the Bennington chapter received a scholarship to attend Metropolitan Community College (MCC).
He and his mentee were matched in the Fall of 2015 when his mentee was an 8th grader.
Turner said that his mentee has already been working on his collegiate goals. His mentee began the Fire Cadet program in their hometown as freshman in high school. From there he enrolled in the Fire Science Career Academy at MCC his junior year, Turner said. He plans to enroll in the Fire Science Technology Program as a full-time student this Fall. His goal is to become a firefighter for a career fire department after he completes his program.
Turner said that his mentee and his mentee's' mom worked on scholarship applications and they were very happy when he received a scholarship to MCC.
Turner said that his mentee has taught him a lot about firefighting and fire protection equipment.
"I have had the opportunity to look at his future and be a person that supports that," Turner said. "From him, I have learned his commitment to his organization (the fire department). He has taught me a lot about the equipment they use. He is all around a good guy and he tells great stories."
Turner said his advice to those embarking on their collegiate journey is to, "Use their skills, their personality and to always try to be their best. Have a goal and work towards that goal."
Congratulations to our scholarship recipients:
Danielle Eidson
Chloe Hamilton
Aaliyah Atkins
Keeley Allen
Jacob Hyrtek
Hayley Lewis
TJ Swaney
Payton Alexander
Falen Jeffries
Tiffany Mayfield
Ross Paxton
Sidney Horne
Taylor Bolling
Jaqueline Olivan
Hope Garcia
Chloe Donahey
Kaylee DonJuan Mendoza
Natali Avila
Zoe Wells
Jade Knoke
Dylan White
Evan Reeder
Taylor Nall
Alexandra Gerking
Joshua Brester
Megan Warner
Hallie Gutzwiller
Nia Latas
Trey Yates
Taryn Friend
Ethan Myers
Hunter Dubas
Alex Rodriguez
Jordan Keene
Cody Christensen
Cale Uhrmacher
Logan Johnson
Logan James
Carlee Brownawell
William Huebner
Hailer Falkena
Emily Smith
Celie Childears
Jenna Frels
RiLee Pascoe
Allyson Johnson
Sean Gildersleeve
Andrew Alder
Makenna Welke
Brock Patrick Nollette
Alison Beutler
Joshua Hoff-Boring
Jordin Sole
Cody Buescher
Jonathan Smith
Maritza Calmo Martin
Jessica Virgilio Francisco
Julie Romero Esquivel
Johanna Sweeney
Elijah Haschke
Elijah Riley
Franco Silva Mendoza
Anthony Goehring
Alana James
Brandon May
Jenna Fuller
Stephanie Jepson
Benjamin Nolan
Anthony Zarate
Karlie Gerlach
Natalie Koubek
Ashlyn Balderston
Chasity Samaniego
Hannah Goltl
Michael Hazen
K'lena Schnack
Savannah Turgeon
Naomi Harrison-Carlson
Summer Coffin
Gracie Hoyt
Lexi Rice
Molly Paxton
Jadyn Chasek
Maxim Svoboda
Jared Finney
Layne Davis
Hannah Schrader
Shirley Zephier
Evelyn Mejia
Caleb Knox
Kaitlin Compton
Aubyrne McClintock
Kelsey Salazar-Allen
Paige McConnell
Miriam Garcia
Kasandra Perez
Britney Salcedo-Gutierrez
Justin Smith
Nathan Bowen
Alexis Schroeder
Georgia Cosgrove
Malina Moore
Noah Mosel
Rebecca Witmer
Reniyah Castro
Jordin Battaglia
Jacob Peckham
Sarah Wamsley
Thomas Wilson
Kendra Nesbitt
Logan Wamsley
Alexah Fort
Thomas Wilson
Mckenna Comstock
Anakaren Alamillo
Adam Curiel
Emma Wareham
Madison Bittleston
Callan Phillips
Jenna Wa
Stephany Anderson
Kelsey Perrotto
Haley Harrell
Anabel Villanueva
Nicholas Castillo
Caitlin Sheldon
Skye Knaus
Jaden Berlin
Mariya Sickler
Alexandra Niedermyer
Aaliyah Horn
Zoe Collingham
Riley Allison
Bailey Robinson