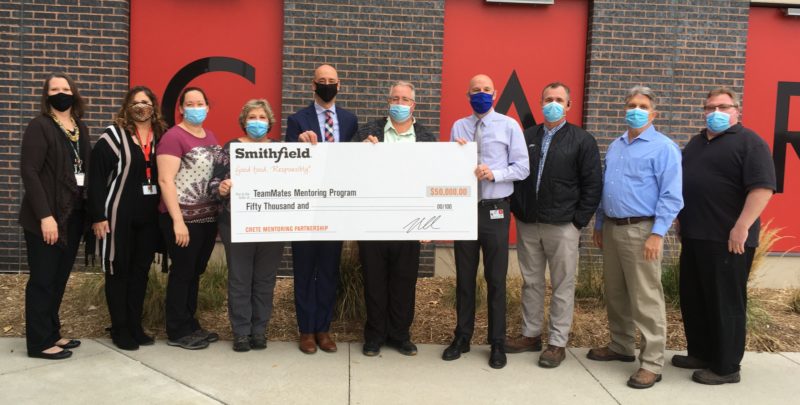 (Crete, Neb.) — The TeamMates Mentoring Program proudly announces its pick for the 2020-2021 Community Partner of the Year —Smithfield Foods.
TeamMates of Crete chapter coordinator, Zoe White, nominated Smithfield for this award. In 2011, Smithfield partnered with TeamMates of Crete to support the local chapter. Their support includes a $50 thousand annual donation as well as time for employees to mentor students in the school. They have 10 members of their managing team serving as either mentors or board members to the local TeamMates chapter.
"In their fast-paced world, they take time to slow down and focus on their mentees, who so appreciate their gift of presence," White wrote in her nomination.
This is the second year TeamMates has presented this award. The winner is chosen from a committee of TeamMates Central Office staff members. Charitable giving, mentor recruitment, and the written nomination are considered in making the award selection. Smithfield will receive recognition on social media as well as an award at the TeamMates Annual Conference in July 2021.
"We're honored to be selected for this recognition, especially from a program that is so important to the community. At Smithfield Foods, we greatly value the relationship that we have with our local communities. Our investments in this program—funding and team member time and expertise—are a testament to our confidence in the power of education and TeamMates of Crete to make a tangible difference in the lives of students and the future of our Crete community," Smithfield Foods Charitable Initiatives Manager Jonathan Toms said.
Smithfield Foods is a global food company headquartered in Smithfield, VA with operations all over the United States. The facility in Crete, NE is home to 2,000 Smithfield team members.