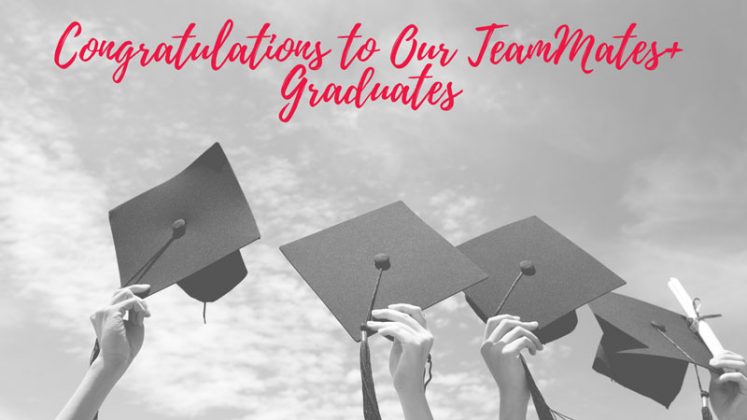 By: Anna Flores
TeamMates+ Post-Secondary Mentoring is a program designed to work with students as they pursue their post-secondary education by providing continued support and encouragement to help them reach their full potential.
For the student, some of the added benefits include the possibility of additional scholarship funds, networking: building their social capitol, internships, special events, college recognition, accountability, and a long-lasting ripple effect.
Alondra was matched with her mentor Dianne in 6th grade, eleven years later and the match just celebrated Alondra's graduation from Hastings College.
Prior to TeamMates, Alondra never thought she would be able to attend college, she said.
"I didn't see myself going to college, I didn't see that in my future. Not because I didn't want to, but because I felt like I wouldn't have the necessary funds for it," Alondra said. "It was always just my mom and she was always working to provide for me and my sisters."
Alondra worked hard throughout high school to achieve good grades while being involved in extracurricular activities and working a part-time job. All of her hard work paid off, she received the Tom Osborne Legacy Scholarship and a 1,000 dollar TeamMates scholarship to attend Hastings College where she continued on in the TeamMates+ program with Dianne.
"I'll never forget when Nancy Jones (Grand Island program Coordinator) knew that she had received the Legacy scholarship but didn't want to tell us until we met on Friday over Alondra's lunch hour," Dianne said. "We were meeting and Nancy came in and said she had some pretty exciting news, she said, 'Alondra you received the Tom Osborne Legacy Scholarship' and we all were crying, it was pretty great."
Throughout college, Dianne and Alondra would meet for lunch to catch up once a month as well as text regularly to keep one another updated on their lives.
One year, the match had the opportunity to present about their mentoring journey at Boys Town which resulted in an associate at Boys Town reaching out to Alondra as a prospect for future employment. She ended up interning there during her collegiate career, she said.
Alondra graduated early from Hastings with a Sociology degree and hopes to work in the foster care system one day. Currently, she is working for Owens and Associates, Inc. as a juvenile tracker.
Dianne said that she thinks Alondra will be successful in the field she has chosen.
"She's very compassionate and caring, she knows what it's like to live with a lot adversity and I think she will have to deal with those kinds of things in the field she has chosen, she has a good head on her shoulders, she knows how to align her time with her day," Dianne said. "I love the fact that she eventually wants to work with foster children, she has two younger sisters who look up to her, even her mom now will come to Alondra and ask for advice."
Alondra said that TeamMates has provided her with many opportunities.
"TeamMates has provided even more than Dianne," Alondra said. "Dianne is a pretty good part of my life, but they also provided college and my internship as well. TeamMates has provided quite a bit for me."
Merrilee and Lindsey were matched in the Fall of 2016 when Merrilee was a freshman at the University of Nebraska-Lincoln (UNL).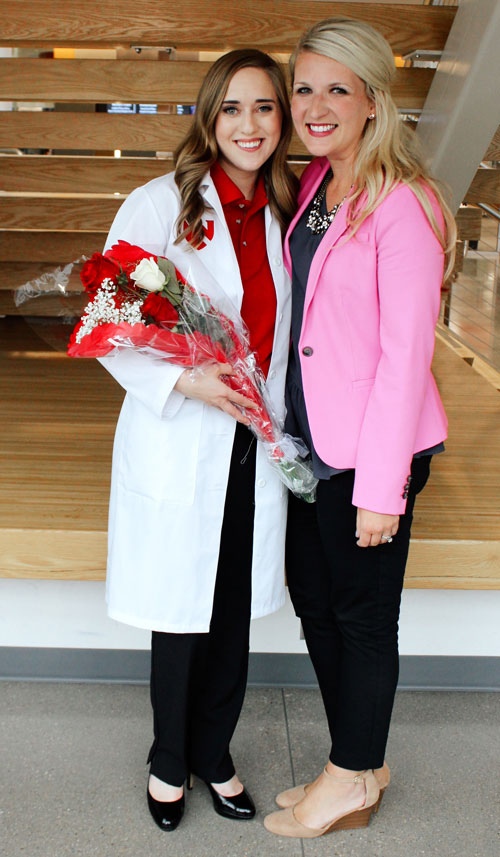 Merrilee said she thought that joining TeamMates+ would be a good way to connect with an alumna of Nebraska and get more connected in the Lincoln community.
They had an instant connection during their first match meeting. Like Merrilee, Lindsey had attended UNL and was involved in a sorority on campus as well as various on-campus organizations and extracurriculars during her time there.
Gallup strengths also made their bond stronger. Lindsey has worked for Gallup for nine years and the duo also received strengths coaching from Central Office Staff member, Tess Starman, at the beginning of their mentoring journey.
Merrilee's strengths are responsibility, relator, developer, belief and harmony. Lindsey's are achiever, maximizer, individualization, significance and strategic.
"Merrilee and I don't share any of the same top five, but that didn't get in our way, if anything it made us stronger," Lindsey said. "Tess, offered a triad strengths session in the first year…the expertise she brought and the things she asked us and helped us think about in relation to each other's strengths made for a really strong foundation to our mentoring partnership over the next four years. I was very grateful for that opportunity."
The match would often meet over coffee at the UNL Student Union, but also ventured off campus to attend various events. They attended the Miss Nebraska pageant, the Miss Nebraska Outstanding Teen pageant, and more.
"Lindsey was another way to impact my collegiate experience, she was someone who was very similar to me that I didn't meet in my other activities, so that was very fun to have," Merrilee said. "It was a very positive experience all around, I know she will be in my life for a really long time."
Merilee participated in the pre-nursing track through UNL and applied for the University of Nebraska Medical Center (UNMC), after her two years at UNL. She graduated from UNMC in May and will start working at Bryan Hospital in the Med-Surge Progressive Care Unit this July, she said.
Her passion for nursing began at a young age. She and her twin were born three months premature.
"We had to make up time in the Neonatal Intensive Care Unit (NICU) for how early we were so that sparked my interest as a young person," Merrilee said. "I would watch A Baby Story on TLC or Untold Stories of the ER, instead of watching cartoons, because I thought it was so fascinating."
Merrilee said that Lindsey has helped her see how her strengths play into her career as a nurse.
"I have enjoyed that my passions and strengths align in nursing field, so I am very excited to give back. I worked through college as a Certified Nursing Assistant (CNA) and I loved that too," Merrilee said. "I am a very relational person, so I think it'll be a good fit for me at Bryan and I am very excited to see where that organization takes me as well."
Lindsey said that Merrilee will be an amazing nurse.
"Merrilee is so nurturing and caring by nature," Lindsey said. "When you think about some of the best nurses you've had personally, they're that perfect blend of responsibility, diligence and disciplined which she brings with her responsibility theme. They also have a mature sense of care, a listening ear and are able to relate to all types of people they encounter, so they can get better."
The match said that they encourage anyone to participate in the TeamMates+ program.
"Though Merrilee and I weren't in the same career paths, we were able to have connection points and create a strong friendship that I know will be lifetime," Lindsey said. "A college student could benefit from being matched with any mentor, there will be something they have in common. Based on what Merrilee and I have created, it is something I would hope for any college student as they navigate that important time in their life."
Interested in becoming involved in our TeamMates+ Post-Secondary program? Please complete one of the following online applications: