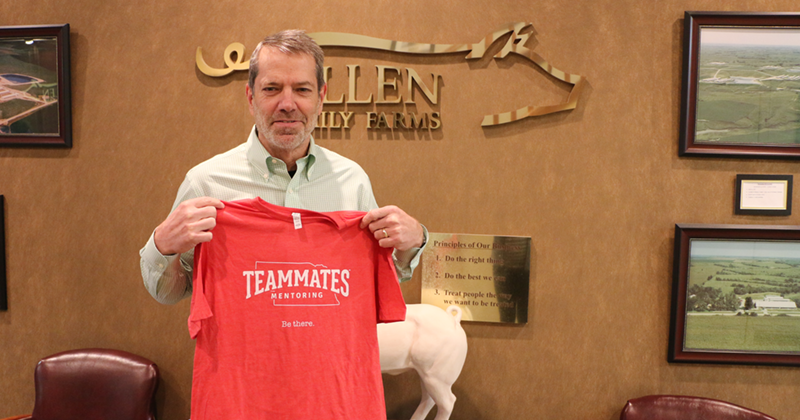 As TeamMates continues to grow, community and corporate
partners help the organization thrive nationally and locally. The TeamMates
Partner of the Year exemplifies the meaning of "be there" by helping local
chapters and programs grow.
Pillen Family Farms began its relationship with TeamMates
around 20 years ago in Columbus, Nebraska. Founder Jim Pillen said the choice
to get involved with TeamMates was a no-brainer.
"Coach Osborne has had a great impact on our family," he
explained. "As TeamMates developed, the concept is so brilliant in terms of
people meeting a young student no matter the set of circumstances, every person
has a person to come in and care."
Pillen Family Farms allows their employees to take company
time to mentor a young person in their local community. Based in Columbus,
Nebraska, the company also donates space for the local chapter coordinators to
work as well as hold meetings and trainings.
"We have a saying around here that if you give, you get
10-fold back, and that's the case with TeamMates," Jim said. "I think that if
people's schedule allows them to mentor, they get more out of it than the
student."
The company doesn't just support the Columbus chapter.
Pillen Family Farms also assists and donates funds to other communities with a
TeamMates program. One example that stands out to Jim is an event to help the
Boone County school district start their chapter. The company also has team
members participate in BBQs called "Friday Night Lights" at participating
chapters.
"We have farms in those areas, so we feel like we need to be
a part of those communities. I don't know any place that has a chapter and
doesn't make a difference," Jim said.
Pillen Family Farms is also a strong supporter of the
TeamMates Central Office.
"You make a great difference by using your ears and caring,
you don't need a special skill set," Jim said.
With a little over a thousand families in Pillen Family
Farms, the company raises commercial pigs for food, and also employs scientists
to keep improving the pigs to create better quality food and lower the carbon
footprint on the planet.
"Businesses need to be a part of making a difference in our
community," Jim explained. "TeamMates is all about the future and if you want
to be a part of something that helps give all of our young people hope for the
future, TeamMates is the program to be a part of.