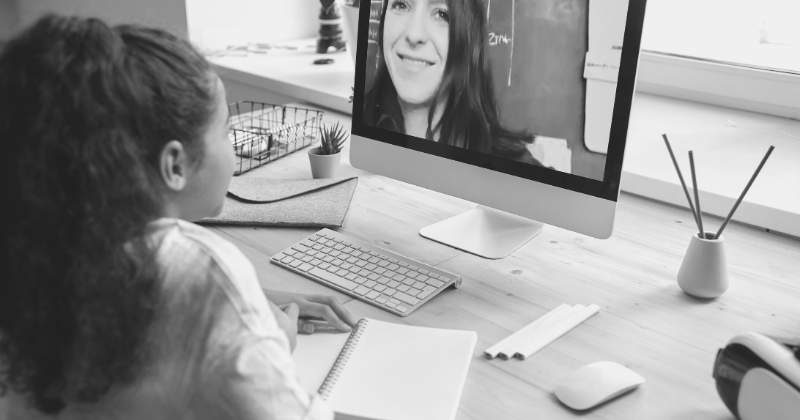 (La Vista, Neb.) Thousands of TeamMates matches will have the opportunity to see each other virtually for the first time since March through the program's new online portal.
Starting September 15, the program unrolled a new online portal for matches to meet virtually. The portal will give students and their mentors an opportunity to talk and catch up after a long six months apart. They will meet during normal school hours during the day, like they typically would during normal circumstances.
Sarah Waldman, Executive Director said "Our number one priority is supporting our matches. This technology will provide a connection point for so many TeamMates matches who are not able to currently meet at the school. During this challenging time, mentees need their mentors more than ever."
Research shows that social isolation and loneliness have been linked to many physical and mental health problems and 90% of those under the age of 18 have reported these feelings.  Before COVID-19, our foundation was built upon face to face, in-person sessions which have abruptly come to a halt, but video conferencing and connecting electronically is a form of "warm distancing," which researchers say mitigates the negative effects of social isolation.  When students were forced to learn from home, TeamMates' almost 11,000 matches were put on hold. Many, didn't get an opportunity to say goodbye in person.
Phase 1 of the TeamMates Portal unroll started September 15 with 56 local programs. More programs will join in the next several weeks. This portal will not replace face-to-face match meetings, yet is a safe alternative during these unprecedented times.
This project was supported by the funding from the Coronavirus Aid, Relief, and Economic Security Act (CARES Act) from the U.S. Department of Treasury and the Nebraska Department of Health and Human Services, CFDA Number 21. 019.
Andy and Orion 30 sec from TeamMates Mentoring Program on Vimeo.
About the TeamMates Mentoring Program
Founded in 1991 by Dr. Tom and Nancy Osborne, the TeamMates Mentoring Program's mission is to positively impact the world by inspiring youth to reach their full potential through mentoring. Matches meet in school once a week during the academic year to play board games, work on a craft, or just talk. Students can be nominated for the program through a parent, school staff member or through self-nomination.
During the 2019-2020 school year, TeamMates served more than 10,900 students in almost 200 communities across Nebraska, Iowa, Kansas, Wyoming, and South Dakota. Along with improvements in grades, attendance, and behavior, students report feeling higher levels of hope as a result of their mentor.