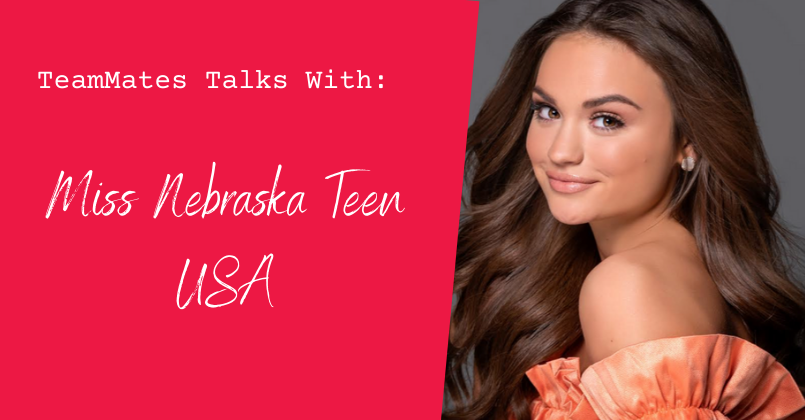 Audrey Eckert is showing her support for the TeamMates Mentoring by acting as an ambassador for our program. Learn a little more about her below!
Where did you grow up and go to school?
I grew up in Lincoln, Nebraska and went to Lincoln East High School. I am currently a freshman at the University of Nebraska-Lincoln where I am a business communications and marketing major
Who was your mentor growing up?
My competitive cheer coach, Katie Samson.
What made you decide to compete for Miss Nebraska Teen?
As an enneagram three, I am extremely goal oriented and being a competitive cheerleader, my whole life has instilled a grit type of personality within me. So ever since I was a little girl my goal was to become Miss Nebraska Teen USA and I have truly been working towards that dream my entire life. Women involved in pageantry are strong, confident, and powerful women and I've known since day one that I wanted to be just like them. Pageantry has changed my life and I can't wait to represent the state of Nebraska on the Miss Teen USA national stage.
Tell us about your platform. Why did you choose it?
I am incredibly passionate about connecting teens to positive, adult mentors and encouraging my generation to be servant-leaders. Having been previously connected to a mentor that one day vanished, I was left devastated and confused. I had to be my own "best cheerleader" during that season and grew an immense compassion for those who also felt alone.
Why do you support TeamMates?
TeamMates mentoring program fights to transform lives through the power of mentoring. This single sentence is so powerful. Firsthand I can say my mentor has impacted my life in a tremendous way and I am forever grateful for her. She is not only someone who I aspire to be like, but she is someone who is focused on impacting others lives. My goal is to help other kids find someone this empowering in their own lives and I know this program can help them do just that. Plus, they're from right here in my hometown of Lincoln, Nebraska.
What are your plans for the future (career, goals, school, etc.)?
After graduating with honors from the University of Nebraska-Lincoln with a degree in business and an emphasis in fashion marketing, my ambition is to help massively contribute to the growth of a global fashion brand through marketing. I not only love studying fashion trends and how companies are currently doing well, but I constantly dream about what they could do next. I carry a value of always leaving things better than I found them, and this translates to the workplace, as well as pageants, and my community work.
Why do you think people should support mentoring, specifically in this time of uncertainty?
During this time of Covid 19, students are experiencing more battles than ever, including mental ill-health, more distinct opportunity gaps, and devastating isolation. This is why mentoring is so important, as some of these students don't have a positive adult influence in their lives.
Follow Audrey on Instagram to see her support the TeamMates Mentoring Program!