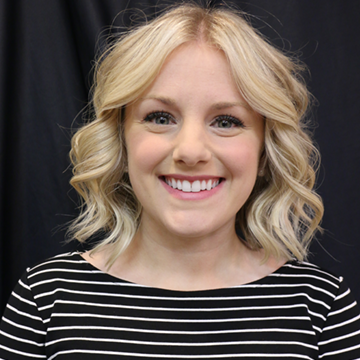 Stephanie started her new role with TeamMates in September 2017. Please join us in welcoming her to the team!
Tell us a little bit about yourself. What are your hobbies or interests?
My husband, Zach, and I were married in 2015 and moved into our first home a year ago. Both of our families and several of our good friends live in Omaha, which is a huge blessing. Along with spending time with friends and family, Zach and I love to travel, attend Creighton men's basketball games, cheer on the Chicago Cubs and Kansas City Royals, and take walks around a lake nearby our house. I also enjoy cooking, baking, and painting in my free time.
What brings you to TeamMates?
I have long been aware of TeamMates and the remarkable difference this program has made in our community over the years. When I saw there was an opening, I jumped at the chance to apply because I believe in the mission and want to help make a difference. During my childhood and teenage years, I was fortunate to have many mentors and am forever grateful for the wonderful impact they had on my life. Given my first-hand understanding of the incredible difference mentors make, it is very rewarding for me to help others become mentors. I am thrilled to be working for such a phenomenal program and am extremely grateful for this wonderful opportunity!
Where are you from? Where did you go to school?
I was born and raised in Omaha. I attended college at the University of St. Thomas in St. Paul, MN and graduate school at the University of Minnesota in Minneapolis, MN.
What are you most excited for in your new role?
I am most excited about helping individuals become mentors. Being a part of the screening team allows me to assist in that process, which is gratifying. On the wall by my desk is the following quote: "Every child you pass in the hall has a story that needs to be heard. Maybe you are the one meant to hear it." This quote underscores the importance of mentors and I'm very happy to be part of the team that screens TeamMates mentors!