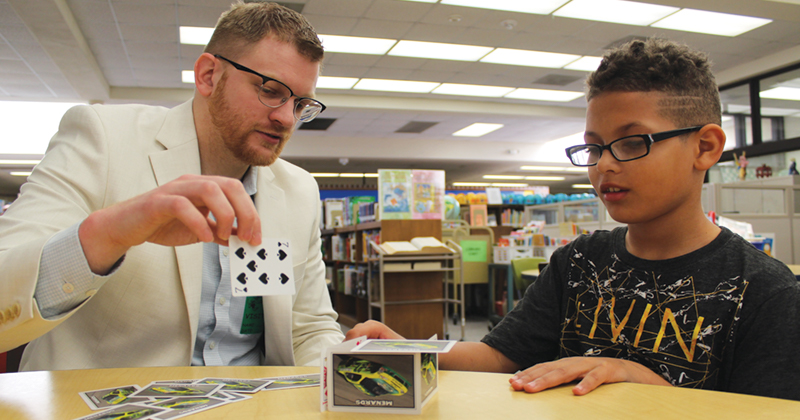 Becoming a mentor and deciding where to make an impact can be a big decision for a lot of volunteers. For Justin Miller, deciding which school he was going to mentor in was easy.
He chose his Northwest Omaha elementary school in the Omaha Public Schools chapter.
"It was really cool to walk in there after all these years!" Justin laughed.
Justin applied to become a mentor in the spring of 2016. At that time, his elementary school didn't have any TeamMates mentors.
"I always wanted to do some sort of mentoring program and give back to where I grew up," he explained.
During his training, Justin asked if his alma mater was even an option. With the help of Omaha Public Schools program coordinator, Dan Bartek, the school kicked off the Fall 2016 school year with Justin as their first TeamMates mentor.
"So far it has been a great experience," Justin explained. "The building coordinator has been a ton of help and made the initial meeting with Andre easy for both of us."
When their mentoring journey began, Andre was in third grade. Now, he's entering his final year at the school. He said he really enjoys having Justin visit him at school once a week.
"I like that have somebody to talk to," Andre said. "I get to tell my TeamMate something, and if I'm sad or mad, I get to talk it through with him."
Justin said he looks forward to catching up with Andre during their meetings.
"Every week he is always excited to tell me how his basketball game went the weekend before," Justin laughed. "He always has to tell me how many points he scored and how his team did."
They don't always chat during their meetings. During the warm school months, Justin and Andre can usually be found playing one-on-one basketball at recess or playing paper football in the library during the winter months. Andre said that's his favorite part.
"He helps me a lot," Andre said. "When we play paper football, sometimes I'll mess up with counting or multiplication, and he helps me with it."
Since 2016, the TeamMates program at the school has grown with the help of other generous volunteers and companies, such as Quality Living Inc., who allow their employees to take an hour each week to mentor. Right now, the school's program has almost 10 matches.
"It's been really neat to see other mentors show up and be with their mentees," Justin said. "I've had multiple kids come up and ask me if I can get them a mentor too—I hope it keeps growing!"
Justin said he takes pride in visiting his alma mater each week and looks forward to seeing Andre, but it's Andre who said this experience means the world to him.
"Justin is one of the best mentors I've ever had," he said. "He's the only mentor I've ever had."
To make a difference in your alma mater, become a mentor today!