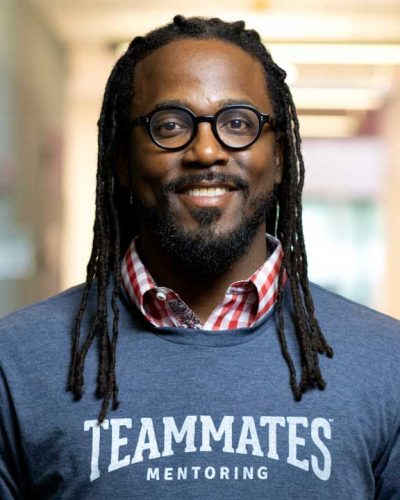 I am "TeamMates Made" and the PROOF that it works! My job allows me to share my message and story from being an "Original TeamMate" (one of the first 22 selected in 1991), graduating from college, becoming a Mentor with TM for 10 + years, and now working full time with the program which has given so much to me. Blessed!
How would you describe your job? What do you do for TeamMates?:
I cultivate community relationships recruiting both businesses to become partners with TeamMates, maintain and strengthen the partner relationships we currently have, as well as proactively attract additional caring individuals to become mentors.
My goal is to eliminate youth on waiting lists for a mentor and increase our footprint within the communities we serve.
Top 5 Strengths:
Communication ~ Woo ~ Strategic ~ Relator ~ Positivity
Favorite Podcast, Band, Playlist or Video: Band:
The 402 (STRAIGHT OUT OF NEBRASKA)
Playlist: A mix of Gospel, Pop, R & B, Country, Reggae & Hip Hop
Favorite subjects in school:
Chinese, Business, Student Council, & Swing Choir
What did you want to be when you grow up when you were a kid?:
Doctor, Attorney, Teacher, Entertainer, Entrepreneur
Where did you go to college?:
University of Nebraska Lincoln
Who was your mentor:
My late Mother Paulette Jones (RIH 2/16/19),
My late TeamMates Mentor Dr. Mike Kneale (RIH 11/17/2009),
TeamMates Mentors Derek Brown & Dwayne Harris, Dr. Cynthia Gooch – Grayson, & Mike Wirth
Favorite place in the world:
Oxford, England (I studied abroad in college and absolutely loved every minute of it!)