Approximately 1,500 TeamMates mentors and mentees attended the Husker Red-White Spring Game at Memorial Stadium in Lincoln on Saturday, April 9th. All who attended enjoyed the warm weather, the Husker WIN as well as the opportunity to attend the annual scrimmage for the first time since the pre-covid event in 2019. CEO DeMoine Adams (pictured in yellow corn head) said, "We are grateful to the University for this opportunity to have 40 of our 139 TeamMates chapters participate in this great event. Because of Covid, we have not been able to have TeamMate Matches events for some time, so we are certainly looking forward to hosting more events in the future.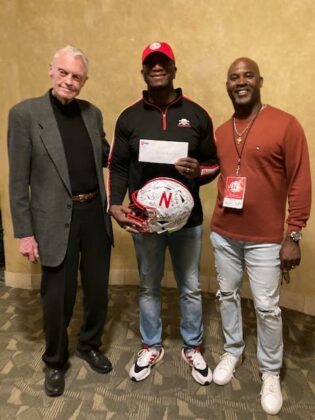 Following the game, Co-Founder and Coach Tom Osborne attended "The Decades" Reunion Celebration at the Rococo Theater. Organized by Husker quarterback Steve Taylor (1985-86-87-88) the event gave a percentage of the proceeds to TeamMates Mentoring, Dream Foundation and Nebraska Greats Foundation. All players in attendance signed a helmet to be auctioned at the 2022 TeamMates Gala set for November 4th at the La Vista Embassy Suites.
For more information on how you can support TeamMates Mentoring, please go to TeamMates.org.