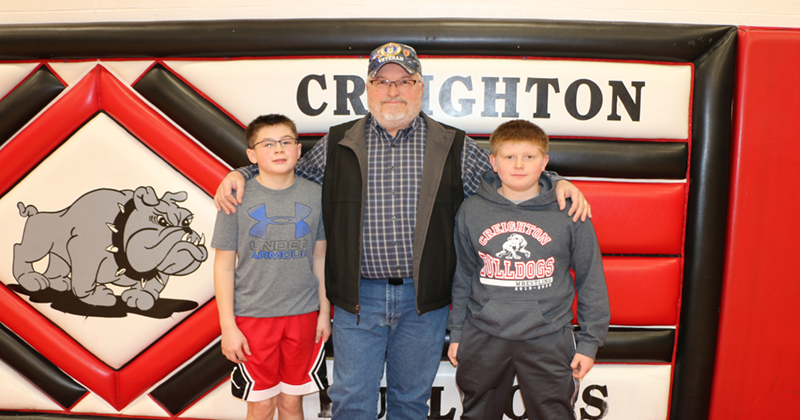 The TeamMates Mentoring Program is proud to announce the 2019-2020 Mentor of the Year — Steven Mattern.
Steven started mentoring with TeamMates when the Creighton, Nebraska chapter opened in 2018. He first started with a sixth grader, then picked up a second mentee in the Fall of 2019.
"I believe in mentoring," Steven explained. "I was busy enough in my career that I didn't have time to do certain things, but now I'm retired and have time."
Steven graduated from Creighton High School and pursued a career in the military. As he remembers back on his grade school education, he said he would always score below average on tests.
"I never thought I could succeed in life," he said. "I thought I was below average."
Steven was far from below average. He had a successful career traveling the globe in the military. He even worked on Air Force One.
"I want kids to know that you can do almost anything you put your mind to," Steven said. "That's why I wanted to be a mentor."
Steven has also found mentoring to be an educational experience for him. One of his mentees is an avid hunter and fisherman, which is something Steven said he doesn't have much experience in.
"My mentee came back from a hunting trip and told me his turkey had 5 or 6 beards. I didn't even know that had more than one beard!" he laughed.
Steven's 6th grade mentee wanted to learn chess during their match meetings. Steven said he hasn't played a lot, but enough to show his mentee the basics.
"I'll make a move and he'll ask why," Steven said. "The first day he beat me, holy smokes, he jumped around the room! It's neat to see him mature through that process. I had no idea he had a strategic mind."
As a member of the TeamMates of Creighton board, Steven is constantly telling others the importance of mentoring. The chapter already has 47 matches, but is looking to grow as more students request mentors.
"People think it's the parent's job to help shape kids, but every child deserves one more adult to bring more stability in a very unstable world," Steven said.
At 67-years-old, Steven said he's not slowing down. He said mentoring is for everyone.
"I originally thought, what do I have in common with a 6th or 7th grader?" he laughed. "We're all young in our head. We just wonder how our body got the way it is. We all remember what it was like in high school like it was yesterday."
This is the first year the TeamMates Mentoring Program has taken nominations for the "Mentor of the Year Award". Steven was nominated by Creighton Program Coordinator, Ryon Nilson. Here's what Ryon had to say about Steven:
Steve has been an incredible mentor in many ways. First of all, Steve is extremely dependable.  He has taken on a second mentee this year and is a strong "promise keeper".  Secondly, Steve is a champion for providing a quality mentoring experience.  Steve has worked with his mentee to assemble a picnic table, create designs for a special router machine, and has also worked with both mentees to create a gift that the mentee can give to one of their parents. Steve has taught one student how to play chess and the mentee has kept wanting to play it until the mentee was able to defeat Steve.  The other day, I passed Steve as he was leaving his session and the only thing he said was, "he just beat me in chess".  In addition to his active, dependable, and quality mentoring, Steve is also active in the promotion of TeamMates to the community. Steve has assisted with the recruitment of other mentors to serve our quickly growing chapter.  Steve is known for the phrase, "I have learned more from my mentee than he has learned from me."  I think this statement serves as a foundation for the TeamMate program and Steve's mentor commitment is a bright light spreading that to everyone.